Death Valley - November 2016
[Originally posted 12/13/2016]
Sierras in the summer, desert in the winter. It's the motto for the California Adventurer. I have spent my spring, summer and fall exploring a small portion of the Sierra Nevada mountain range. With temperatures dropping and snow falling, I decided to take the opportunity to follow along with an experienced group to explore the desert for the first time. Since Rob has been hosting an annual Death Valley trip for years, I knew that we were going to be in for a good time with lots of things to see and a fantastic hydration schedule. In this report, you will find both an account of our trip, as well as some side notes on specific subjects that I find important for trips of this type. Let's get into it!
Driver/Rig:
RobRed [Rob/Dakota] - Toyota Land Cruiser (100 Series)
jAndyMendo [Andy & Taco] - Toyota Tacoma TRDOR (Not to be confused with Hodor)
MTN4RNR [Max] - Toyota 4Runner Trail
IOOOOI [John/Barb/Osi] - Jeep Grand Cherokee
Jynxx1970 [Mike] - Jeep Wrangler
Adalto_N [Adalto/Natalie] - Toyota 4Runner TRD Pro
Mayne [Kelley/Tiffany] - Toyota Land Cruiser (80 Series)
Jungion [TJ/Mike] - Toyota Land Cruiser (100 Series)
racerkit [Ben] - Toyota Land Cruiser (80 Series)
Day 0: Travelling
A group of us were meeting at a Goodale Creek Campground off of highway 395. I left the Bay Area with Andy to get a jump on traffic getting into the mountains. We opt'd for highway 120 over Tioga Pass.
We refueled in Bishop, got a beer at a local brewery called Mountain Rambler Brewing (the house IPA was very nice) before heading into camp for the night.
Kelley, Tiffany and Mike were already in camp when we pulled in. Rob, Dakota, Natalie and Adalto had a late arrival after we had all gone to bed. John and Barbara had set up camp in the next group of sites, but we didn't know that until the morning when we spotted a lone Jeep and it's roof top tent off in the distance.
Day 1: Big Pine to Eureka Dunes
Morning broke on the campsite to a beautiful view of the Eastern Sierras. We all woke up, packed up and hit the short road to the meet up point in Big Pine. The morning temperature was cool, but refreshing.
We all trickled into town and topped off our rigs and fuel cans at the local Shell, and subsequently filled up ourselves at a breakfast joint conveniently next door. A large omelet with all the standard breakfast dive fixin's provided a solid meal before heading on our remote journey. We met across the street for our first morning safety meeting. Rob finds these morning meetings important to the traveling process as we go over the daily itinerary, discuss any vehicle or personnel issues, and generally make sure that everyone is problem free and ready to go. As we are traveling in remote areas with little to no convenient "mission abort" route, communication within the group is crucial. The ability to bring things up in the morning meeting, whether it be vehicle or personal issue, allows for the group and group leader to plan as soon as possible for any scenario. Having this get together in the morning was a very welcome addition to the daily schedule. For our first meeting, we took turns introducing ourselves and going over the general itinerary of the trip before heading out on the trail.
After our safety meeting, we all conducted our own rig walk arounds before heading out of town. Our first waypoint was Gilbert Pass on highway 168. We drove east, and into the mountains via twisty highway 168. Gilbert Pass marked the start of dirt, and our air-down point before descending into Eureka Valley. Air down pressures vary based on vehicle weight/setup and driving style. For this trip I brought my pressure down to 22 psi as there would be higher speed sections over longer distances, and because my vehicle is relatively light.
The drop into Eureka Valley was my first introduction to the desert. Tall mountains surrounded a sloping valley floor leading down to Eureka Dunes on the South end of the valley. We came through the north between Sugar Loaf and Chocolate mountains. The landscape and roads were rocky and varying. I found quickly that many of the roads in this area traversed through seasonal flood areas making the trail rocky and hard to follow at times. The pace was slow but steady as we made our way to the middle of the valley and the more developed Death Valley Road that cut across the valley. We stopped at the Death Valley Road junction for a lunch break.
Following lunch, we drove down Death Valley road at speed and were quickly enveloped with dust forcing us to spread out. Good use of communications is key when a large group is spread thin to make sure that everyone in the group stays on the correct route. We arrived at the south end of the valley, and quickly claimed a campsite at the base of the dunes next to a fellow group of adventurers from the Xterra forum. They were out there running the opposite direction that we were, and had come down Dedeckera Canyon that afternoon. A few of us made our way up the dunes to stretch the legs and to catch the sunset vista at the top.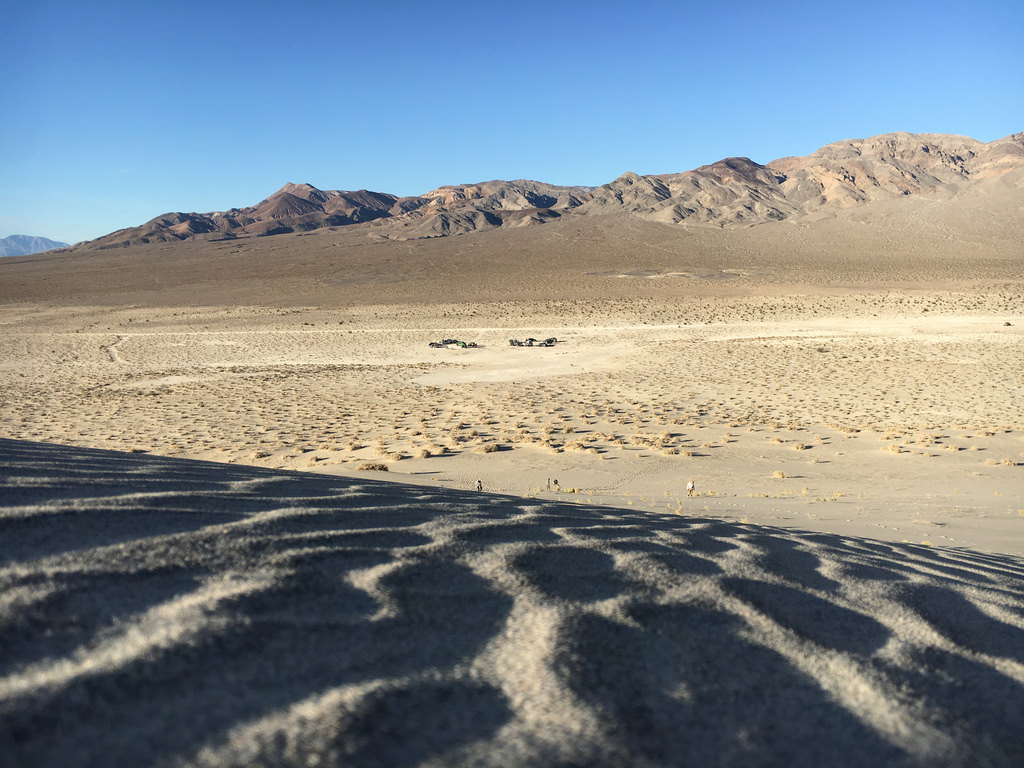 We set up camp, and settled in for the evening. Our group had a diverse camping set up. Some had roof top tents, but none the same. Kelley and Tiff have a pull-behind-paradise with their trailer/tent combination that brought some of the comforts of home with them on their adventures. One rig had a ground tent, and the rest of us slept inside their rigs using various systems. It was really interesting to see everyone's version of home away from home on this trip. In looking around camp site, I found some different perspectives and inspiration for my own set-up moving forward.
Day 2: Eureka Dunes to Saline Valley Hot Springs
In the morning we woke up to an amazing view of Last Chance Ridge which rise 3000 feet above the desert floor.
Camp began to stir shortly after the sun rose as everyone packed up their things in their own systematic way. We got together for the morning safety meeting to go over our trip through the day's plan. We were to head out of the Eureka Valley, and into Saline Valley via Dedeckera Canyon. Camp was packed as we made our way around the back side of the dunes, and into the canyon.
Dedeckera Canyon was our first obstacle on the trip. The trail narrowed as we came into a rock lined canyon where we met a well placed waterfall obstacle. Good tire placement, a bit of spotting, and a steady pace made this obstacle fun to tackle for the whole group. The unique aspect of our group is the variety of people on the trip, and the different vehicle set ups. We had novice off-roaders to the seasoned experts. Rigs with trailers, ones with stock suspension, no lockers, full lockers and a couple of fully built Expo rigs. We had it all. Even a few Jeeps! Everyone cleared the obstacle without issue, and we moved down and into the Saline Valley.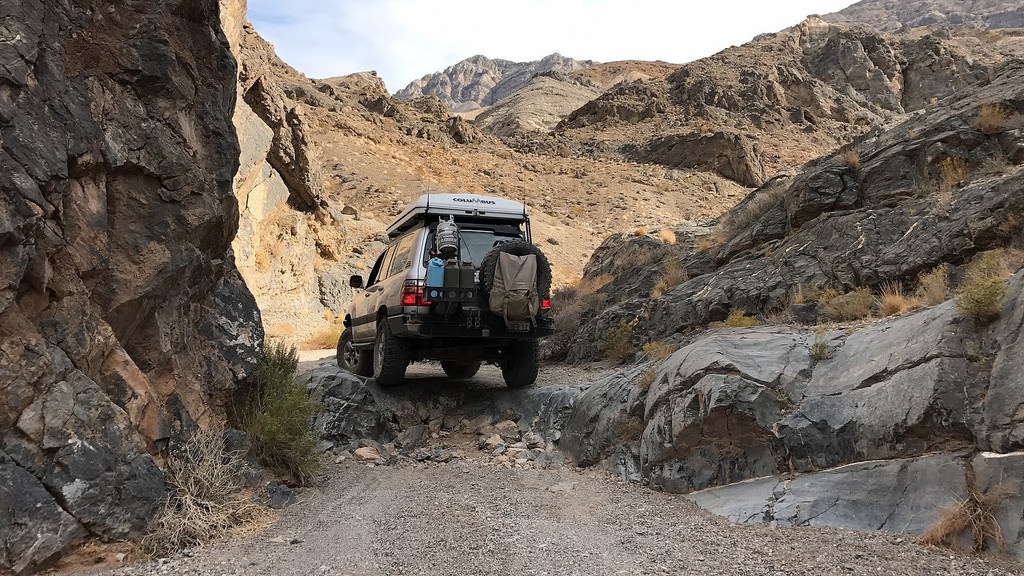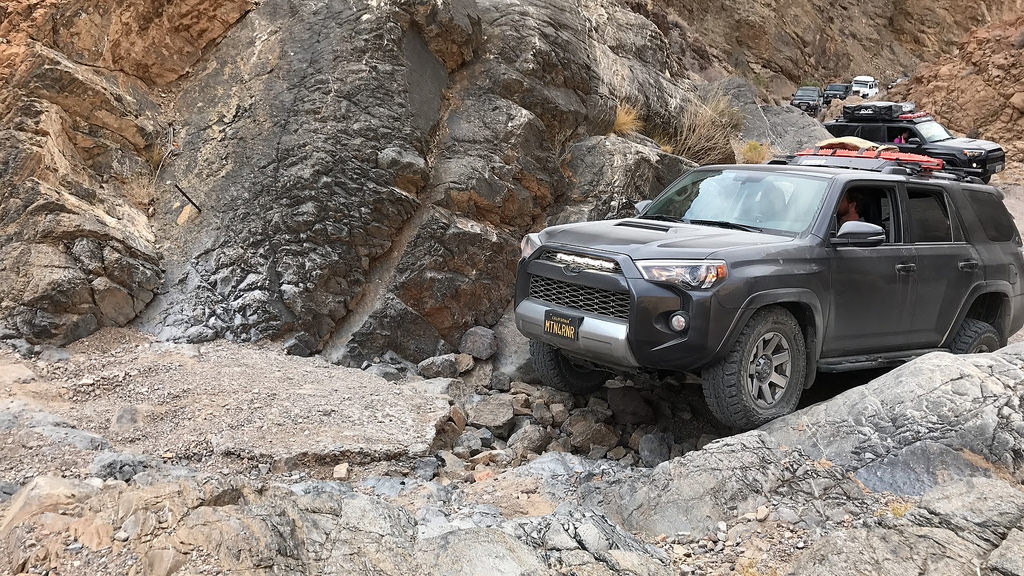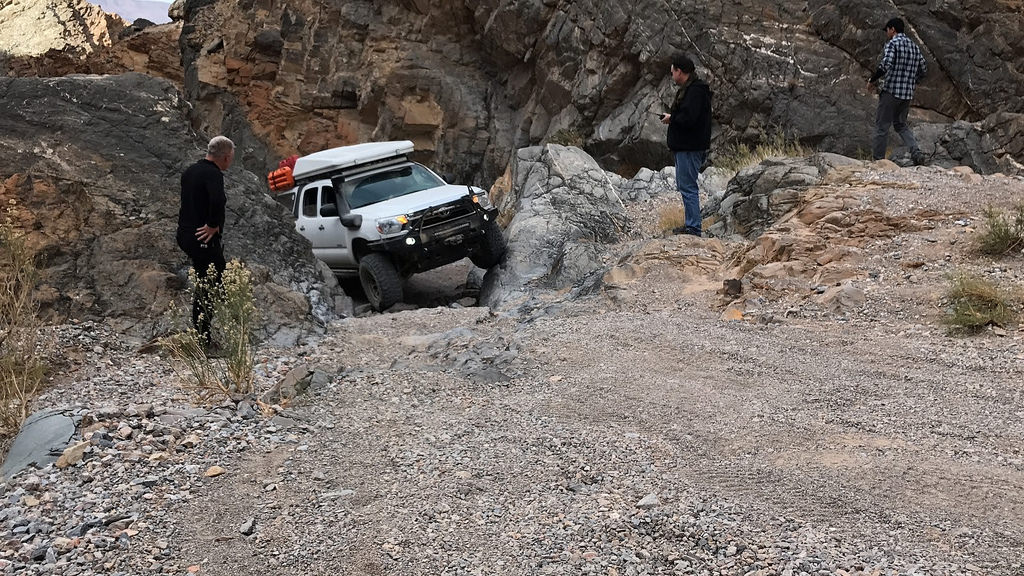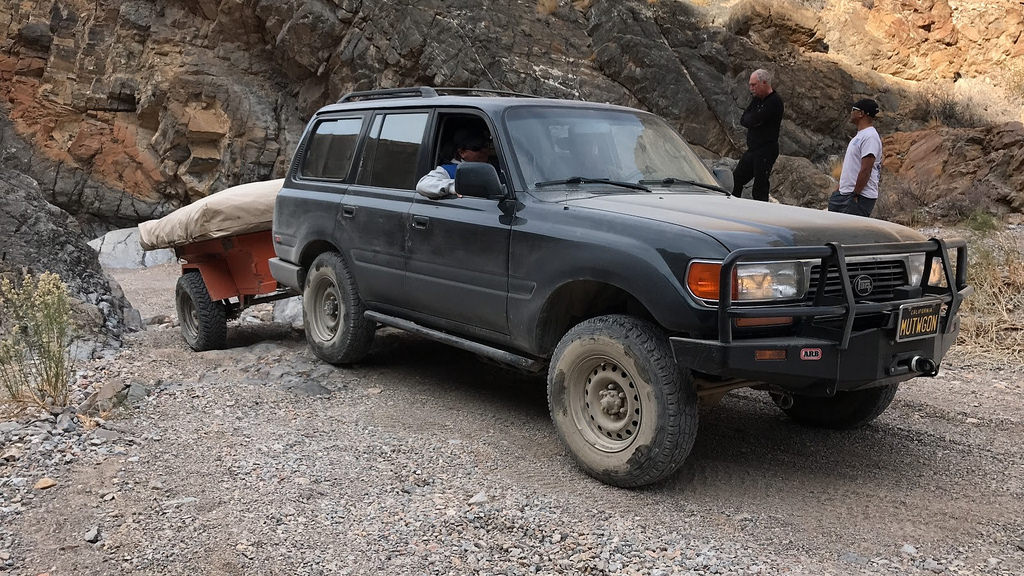 Heading into Saline Valley, stopped at a landmark called the Marble Bath. It's rather self descriptive. It is an old cast iron bath tub that was placed in the desert soil before the National Park Service took over the land.
A few in the group decided to hike to a group of indian paintings after lunch, the rest of us made our way down the trail planning to meet up at the Hot Springs. The trail transitioned from a well defined track to a "where'd the trail go" as the seasonal flood washouts move the trail every year. I remember Rob and Andy chiming in on the radio saying "My track from last year went this way".... In opposite directions. It proved a fun portion of the trip because we breadcrumbed the trail together creating a new track that eventually lead us to a scenic overview of the northern section of Saline Valley.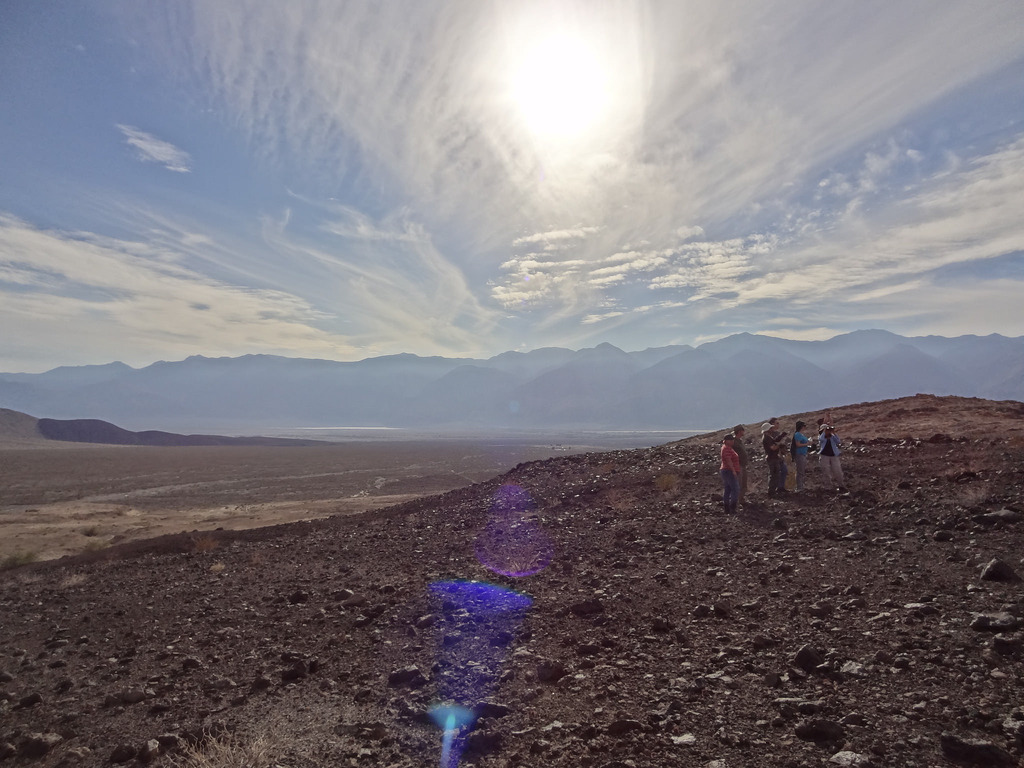 We made our way from the hilltop into the Hot Springs, and after hunting for a large spot we settled on an area close to the upper springs. What an oasis. I had not looked up the hot springs prior to the trip as I wanted to "surprise" myself when I got there, but I could immediately see why people had been talking about it for a good portion of the day. The upper springs had concrete tubs with comfortable seating, and temperature valves to get the temperature just right. I ended up spending most of my time in the Wizard Tub, one of the larger and hotter tubs. With the nearby shower (which only has an on/off valve and is permanently set to the perfect temperature), lawn and "kitchen area", this was an amazing escape in the middle of a harsh desert. There are people that stay at the hot springs for weeks at a time, and I cannot blame them. Everything is well kept, the general atmosphere is very relaxed and respectful and the pit toilets are top notch (for a pit toilet).
I have noticed that with every group trip I am on, there is always a coordinated effort to arrange vehicles in the best way possible and that typically everyone has their own idea of the best spot. Some like to be close to the fire, others a bit more secluded to the side. But after a few nights being on the trail together, the rhythm of setting up camp becomes natural. We all parked around a general open space and fire pit that we would share later on that evening after the "evening soak" as Mike would call it. Dinner was made. Sleeping arrangements were set up. I made my way to the tubs to enjoy the moonlit evening. After a good soak and some whiskey, I made my way back to camp where we enjoyed a good fire before calling it a night.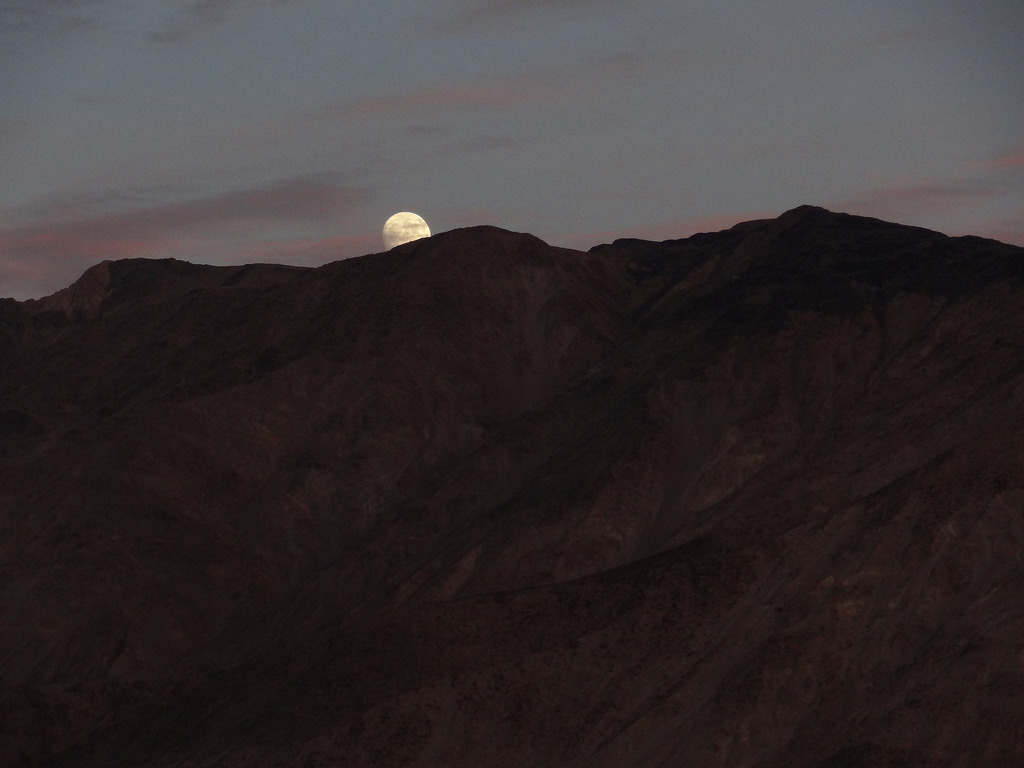 Day 3: Saline Valley Hot Springs to Hidden Valley
I was woken up by Mike (our resident hot springs expert) just before sunrise because I had asked him to include me in his "sunrise soak." What I didn't account for was the substantial hangover that the morning had in store for me. I was the worse for wear, but I wouldn't let it stop me from getting to see the sunrise from the tub. I grabbed the biggest water jug I could find, and brought it with me to the tub where Mike, myself and a few other dedicated individuals sat back and watched the sunrise over the Saline Valley. I might have felt terrible, but it was worth it to be there in that moment with the wild burros making hee-hawing in the background. Lesson learned in the desert; hydration is hard enough in the desert, and alcohol makes it that much harder. After my kick in the butt sunrise soak, I came back to camp where the rest of the group was starting to poke their heads out of their tents to begin the day.
In quick fashion, everyone ate their breakfasts and packed up camp. I was consuming as much water as possible at this point to rehydrate myself for the day's trek. We had our morning safety meeting where we went over the route for the day through the Saline Valley, over Lippincott Pass, past Racetrack Playa, and into Hidden Valley. We said our good-bye's to Mike who needed to leave for work the next day. It was great having him, a desert local, on the trip to show us some cool spots and to talk to more about life in the desert. After a quick stop at the lower springs for a walk around and a final bio-break, we hit the road.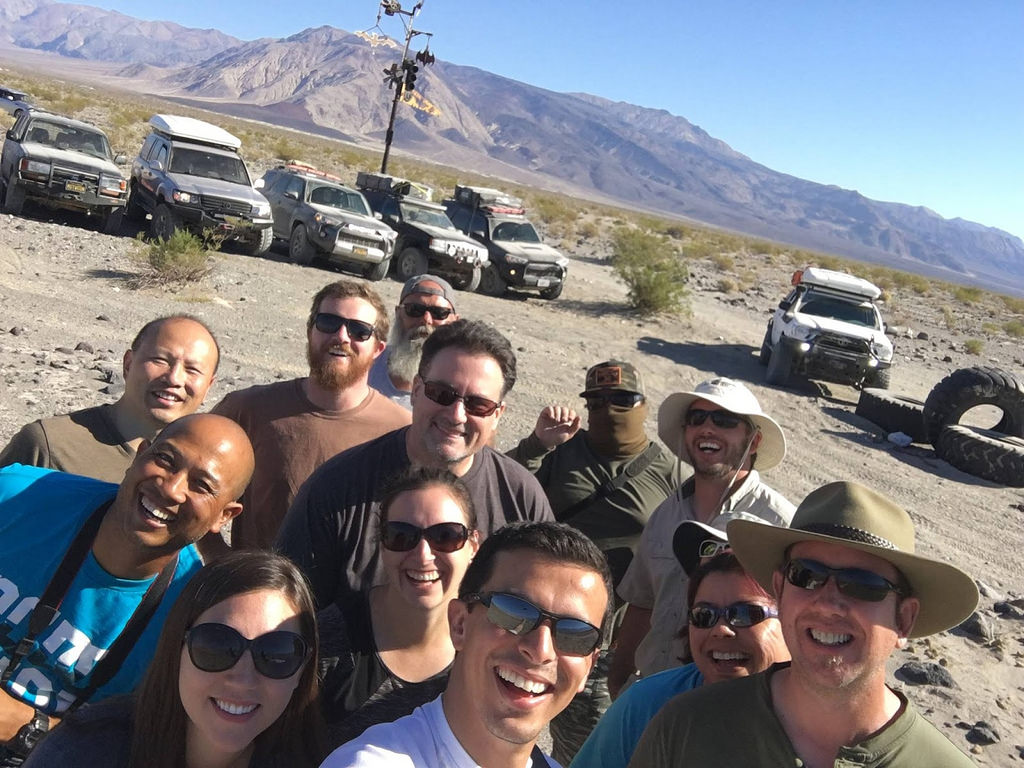 Saline Valley Road cuts through the valley and is mostly a washboard surface with sand, rock, and dust being it's main components. It served as a good shake down for some recent additions to my vehicle including my platform systems, and the freshly installed mobile HAM radio. Thankfully everything attached to my truck stayed attached after miles of vibrations and whoops. Apparently according to others, the road was in better shape than in year's past. Being on the stock 4Runner suspension, I was thankful for this good fortune and made note that coming back to the desert should include a suspension upgrade beforehand. Driving on this surface is rather tiring, as you are being jostled about and are constantly focusing on the road ahead looking through thick dust for tire hazards. I really got a sense for how tough these areas can be on tires from the vehicles that we saw with spare tires on, and from talking to other travelers about their misfortunes with flats on these rocky roads. I was thankful I opt'd for a load range E Cooper tire some months back as I now had thicker sidewalls less susceptible to cuts and puncture. That didn't stop me from staring at the road the same as my dog does looking at my food when I eat.
Our road caravan was spread out over a few miles, so when we reached the base of Lippincott Pass, we convened for a short break. Lippincott Pass, named after the visible Lippincott Mine near the summit, is a narrow stretch of trail that starts in the south end of Saline Valley, and climbs some 2000' into the Racetrack Playa over the southern end of Last Chance Range. Because it's a narrow trail, we sent Andy up the pass solo to scout for other groups and to hold off anyone at the summit from coming down while we were climbing up from the bottom. With seven vehicles (one with a trailer) there was no turning around once we started. Andy made it up the pass in a flash, he has a right foot problem, and gave us the all clear. We packed in and started up the pass.
Our summit of the pass was uneventful and very fun. The views were fantastic… for those in the passenger seats. The driver's were rather focused on the task at hand as there was a rather steep drop off on one side of the vehicle for most of the ascent. Once at the summit, we dropped into Racetrack Playa, a place that I had read about and seen many photos of. Coming down into the valley floor, the playa stands proud as a massive flat area that looks very strange, like something out of a movie about another planet. We traveled along the west side of the valley, and found a spot to pull over for lunch near the Grandstand, a large protrusion of rocks on the north side of the playa. We all took to either fixing lunch, or scattering out to the Grandstand. One thing that we did all notice were the recent markings on the playa floor from an illegal joy ride that had taken place a few months prior. I was saddened that somebody's irrational and immature decision to blow past Wilderness Boundary signs for the sake of sliding around on the flat surface caused so much lasting destruction. I felt fortunate that I was able to still come see this amazing place after that incident and I hope that others that come to see it continue to respect the rules set forth so that it can be taken in for generations to come.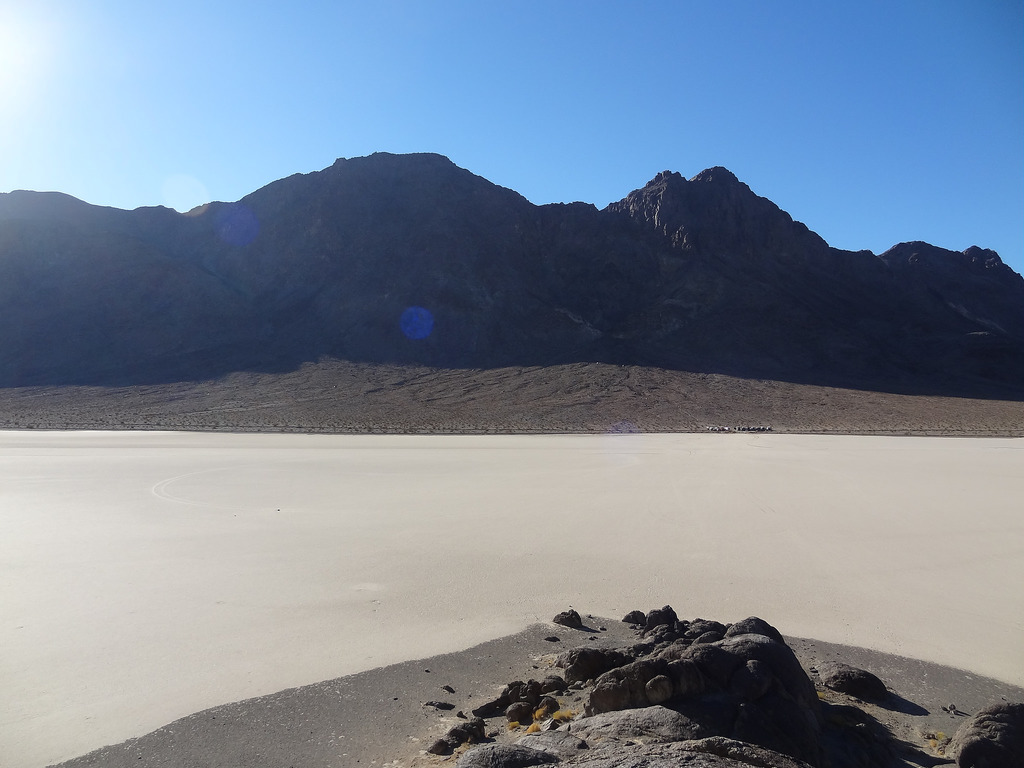 I took one last view at Racetrack Playa as we packed up from our lunch break. We were continuing north to Teakettle Junction, and then to find a local mine. More washboards ahead, I could hardly wait.
Teakettle Junction is an area where Racetrack Valley and Hidden Valley Road intersect with a large wooden sign in the middle of the junction that is decorated with teakettles. Each one different with either things on them or in them. It seemed that it was a token of passage to leave a kettle behind, and according to research after the trip, it is good luck to leave one behind. Apparently the park service clears the sign of kettles every so often, and many of the kettles were dated from a month or so before hand. I wonder if there is a massive kettle graveyard somewhere out there in the desert. Maybe another trip… I tinkered around the kettles, and took one last look at Racetrack Playa before we pushed on into Hidden Valley in search of Lost Burro Mine.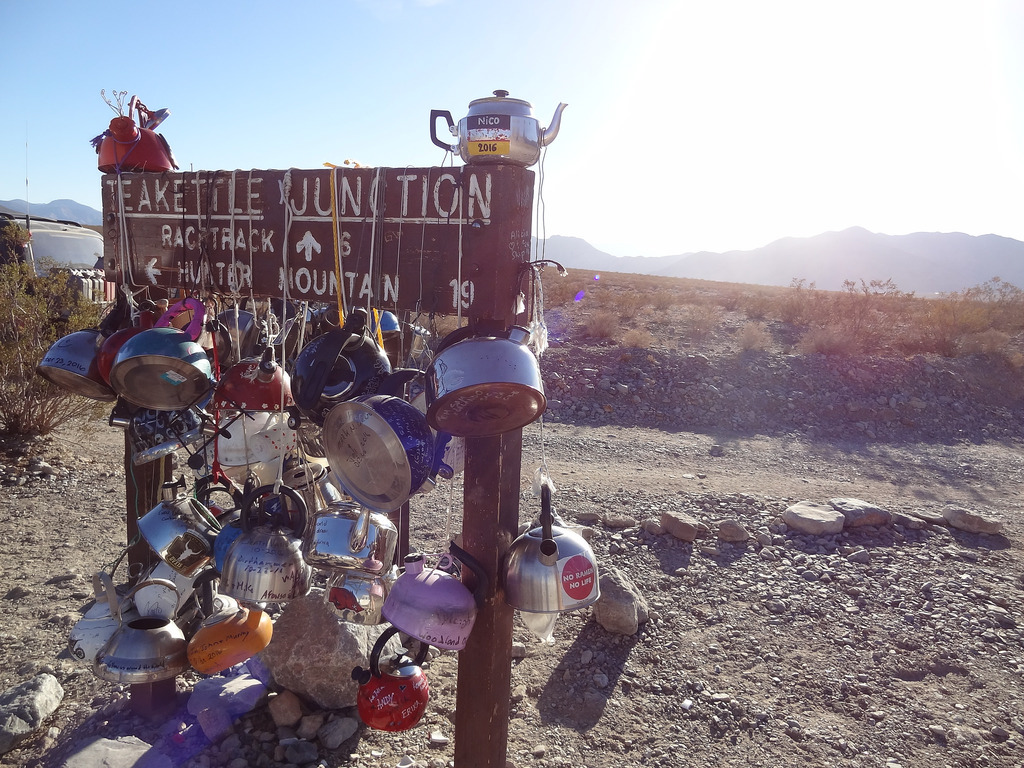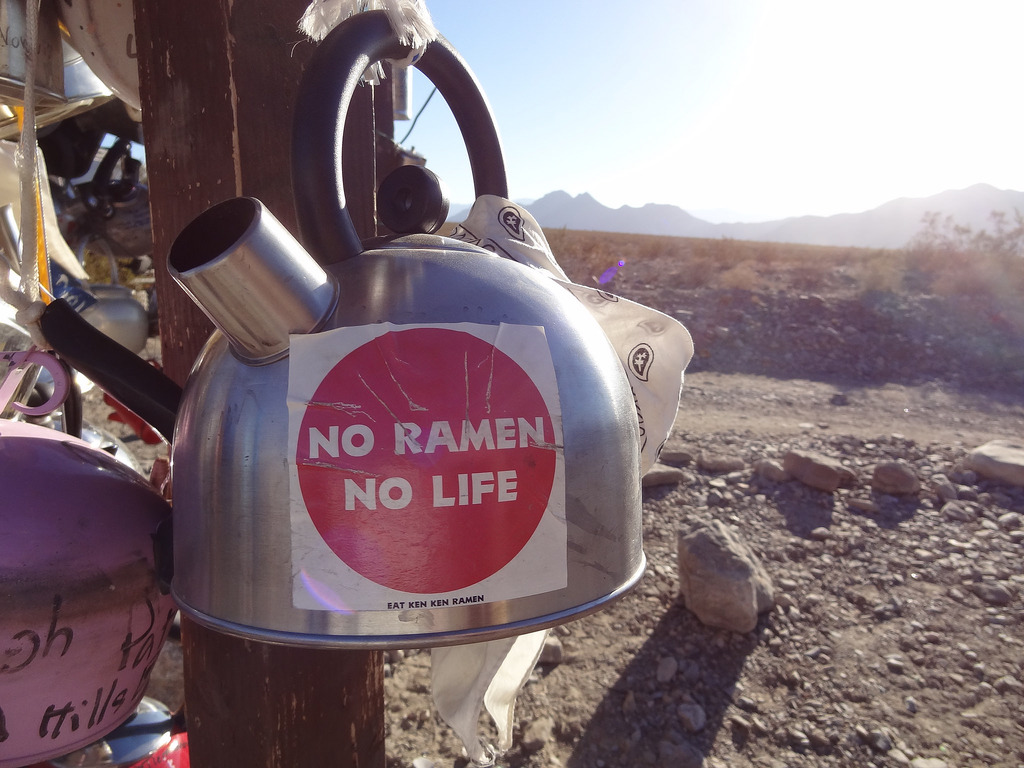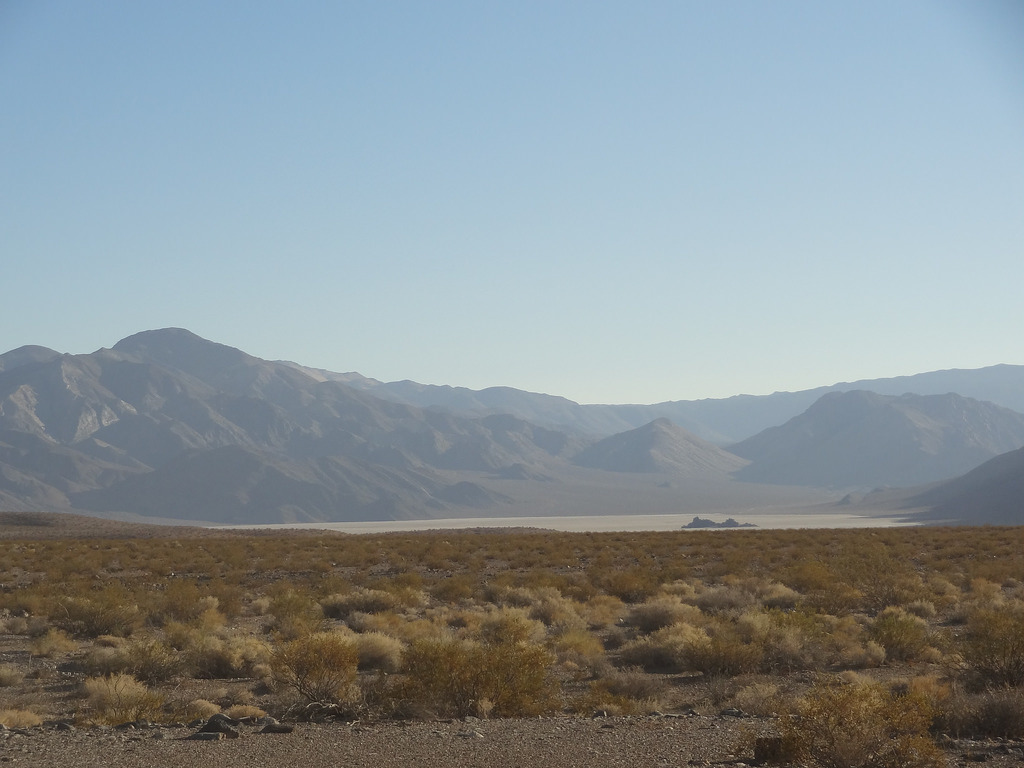 Lost Burro Mine is a hidden gem tucked away in a Hidden Valley canyon. We got a backstory of the mine from the co-pilot of our lead rig, Dakota. She explained that the mine came to be in the early 1900's, when a down on his luck miner chased his burro up the canyon after it had run off. Towards the top he spotted the stubborn animal and went to throw a rock at it, but noticed that the rock he picked up was gold laced. He purchased the land and started to mine. It was a lucrative mine, active until the 1970's. Now it is preserved as an adventurer's playground. We explored the still standing buildings and the open mine shafts until the oncoming darkness forced us to leave in search of a campsite.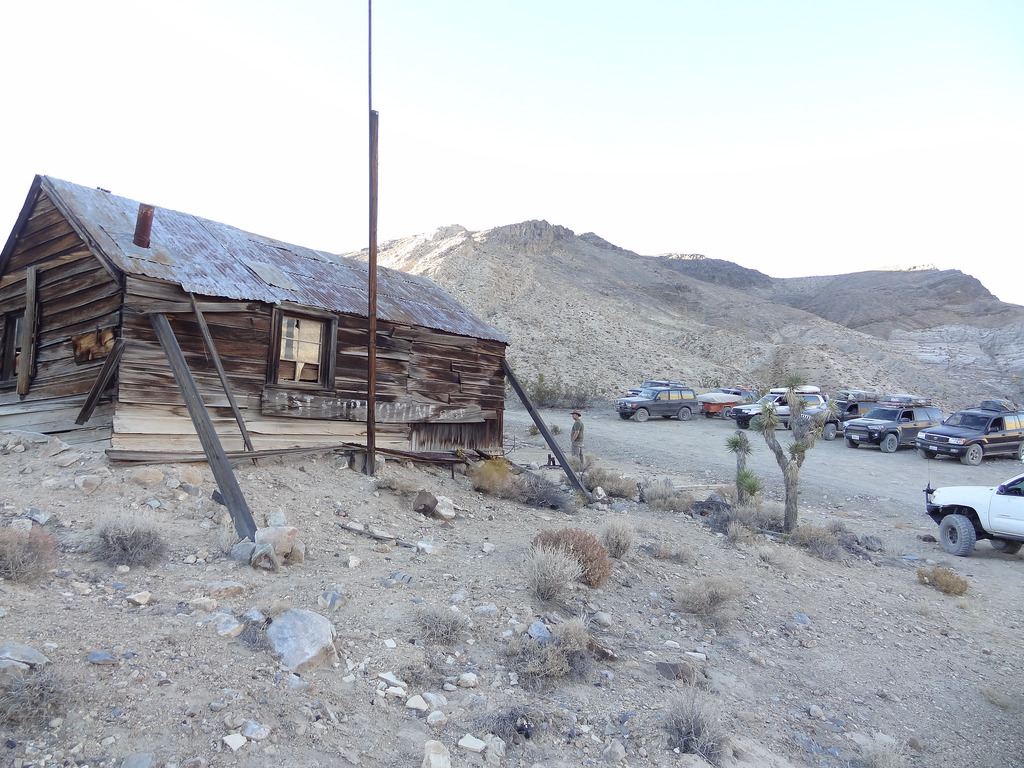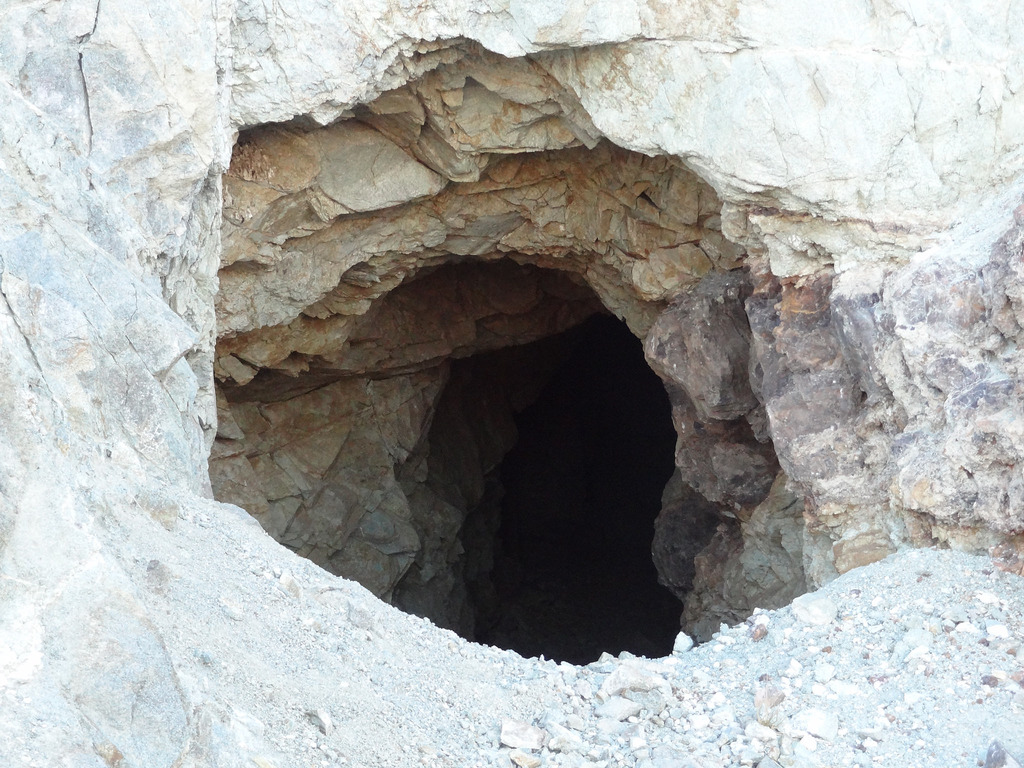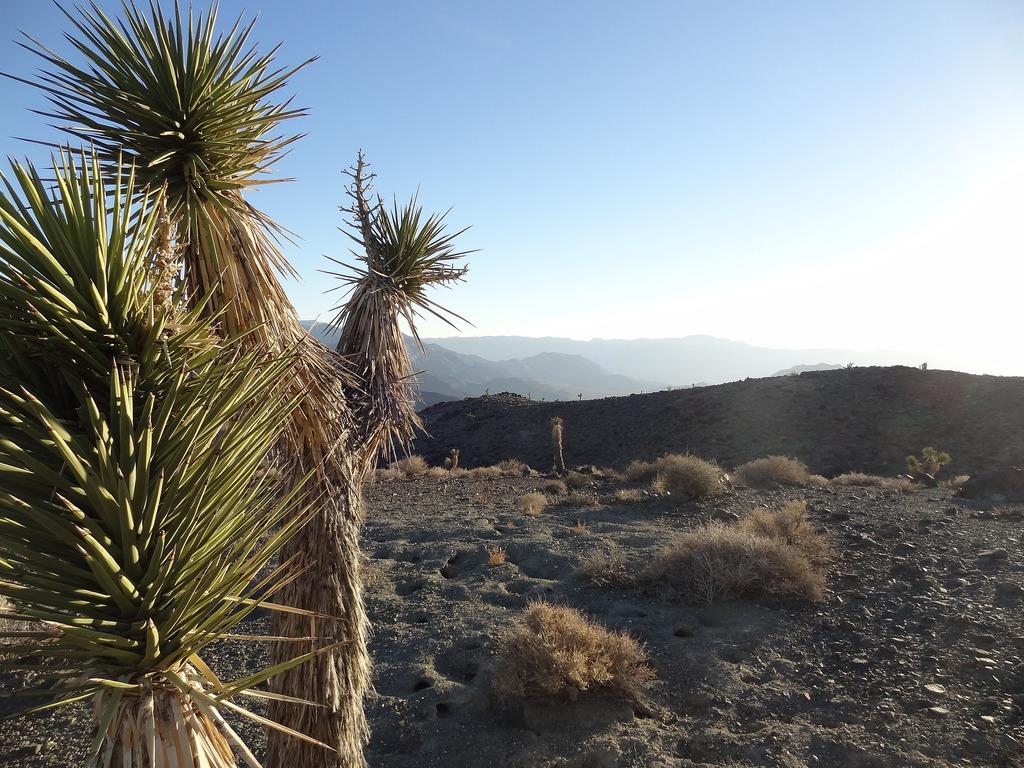 We were fortunate to find a campsite removed from the main road up in a small canyon. We found ourselves surrounded by steep rocks and protected from the evening wind. This campsite was tricky to get everyone situated in, but after a bit of squeezing, stacking, and guiding we made it work. I posted up just above the fire using some well stacked rocks to level me out. It was strange spending time outside when it was getting dark at 4:45pm daily. Your body wanted to eat dinner and get it out of the way, but then you were left in a weird "I think I am tired, but it's 7 o'clock" limbo. Campfires and good conversation make the time pass quickly when you are in a big group like ours. The November Super Moon turned the desert landscape into a well lit scene, and provided more than enough light to allow us to walk around without headlamps and see far into the valley below. Soon it was 11pm, and just like that, time for bed.
Day 4: Hidden Valley to Highway 190
I started the coffee early in the canyon. I found that through the course of the trip my sleeping bag was tolerable, but not comfortable in the cold temperatures. Coffee always helps warm the body, and the rising sun was quick to heat up the rest of me. Eggs and bacon. A trail standard for my breakfast palette. Seeing as it was the last morning, I spent a bit more time enjoying the time in camp. Soon though it was time to move on if we were to hit the highway with enough time to get home that night. We left our campsite after the daily safety meeting and worked our way south and into the Hunter Mountain Range. I had seen sand, steep mountains erupting from flat valley floors, playas, and a lot of Yucca trees, but going over the Hunter Mountains brought us into a high elevation pine forest just north of Panamint Valley. We quickly climbed 2000' to our highest elevation of just under 7000'. It was cold, and it quickly became a destination for a future trip.
We soon found ourselves overlooking Panamint Valley and the Panamint Sand Dunes. We stopped along the ridge line to take in the view and to take a group photo as we neared the end of our trip. I found out that our group leader Rob, and a surprising amount of other members on the trip were Top Gun buffs. We had been making Mother Goose and admiral's daughter references all weekend. Someone must have been listening, because right when we were setting to leave the ridge line, we got a close F-18 flyover as the pilot tore through the Saline Valley, over the Hunter Mountains, and into Panamint Valley (doing a barrel roll I might add). Talk about a cool experience that left me speechless. And a perfect ending to the weekend.
We dropped to lower elevation as we met up with Saline Valley Road which we left the day before. Within a matter of an hour on the trail, we transitioned from desert valley to pine forests at high elevation, and from there to the desert plains that are covered by Yucca trees. This area is truly mesmerizing. When we came to a long straight stretch on the road, I tried to outrun Rob's V-8 powered 100 Series, but I was soon met with a loud rumble as he scooted past me and left me literally in the dust before we stopped for a quick group photo.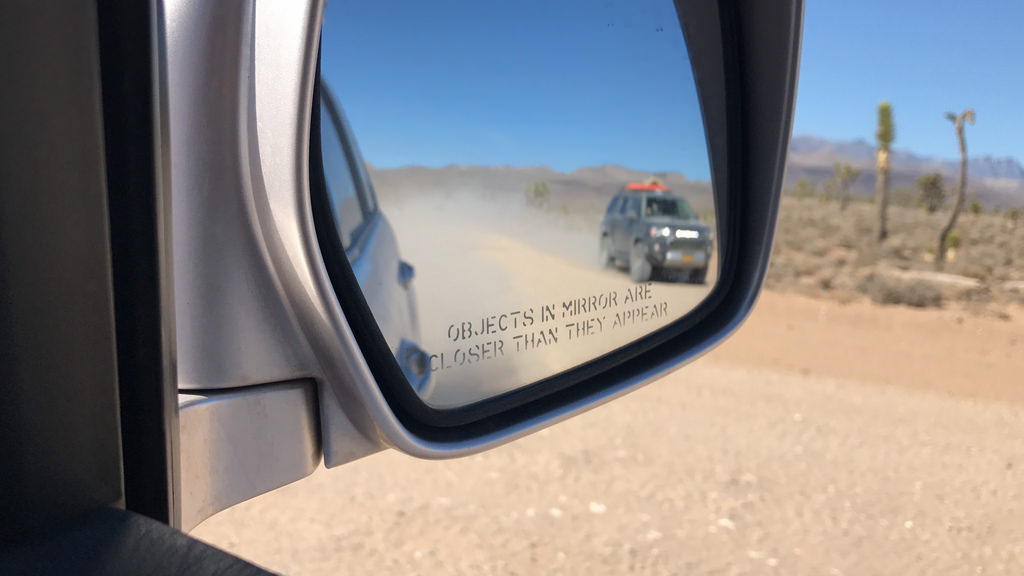 Our last stop for the trip was the famed Boxcar Cabin, where we would take some time to look around the many, many notes and drawings, and have some lunch. It was really cool seeing notes from people and groups that had been coming to the cabin for decades! If you are lucky enough to stumble on this hidden Death Valley gem, be sure to stop in and check it out.
From there, we split up. A number of rigs went ahead to air down where the dirt hits the pavement, some hit the road ASAP to get home in a timely manner, and the rest decided to air up at the Boxcar. It was the last of the dirt that we would see on this trip, but it was a fun and fast cruise to meet up with Highway 190.
As we pulled over to do some vehicle look overs, and to wait for the remainder of the group to finish airing up, Dakota spotted and took a photo of the Saline Valley Road sign that did a pretty good job summing up our journey. Oh, and we got another F-18 flyby, which was still awesome.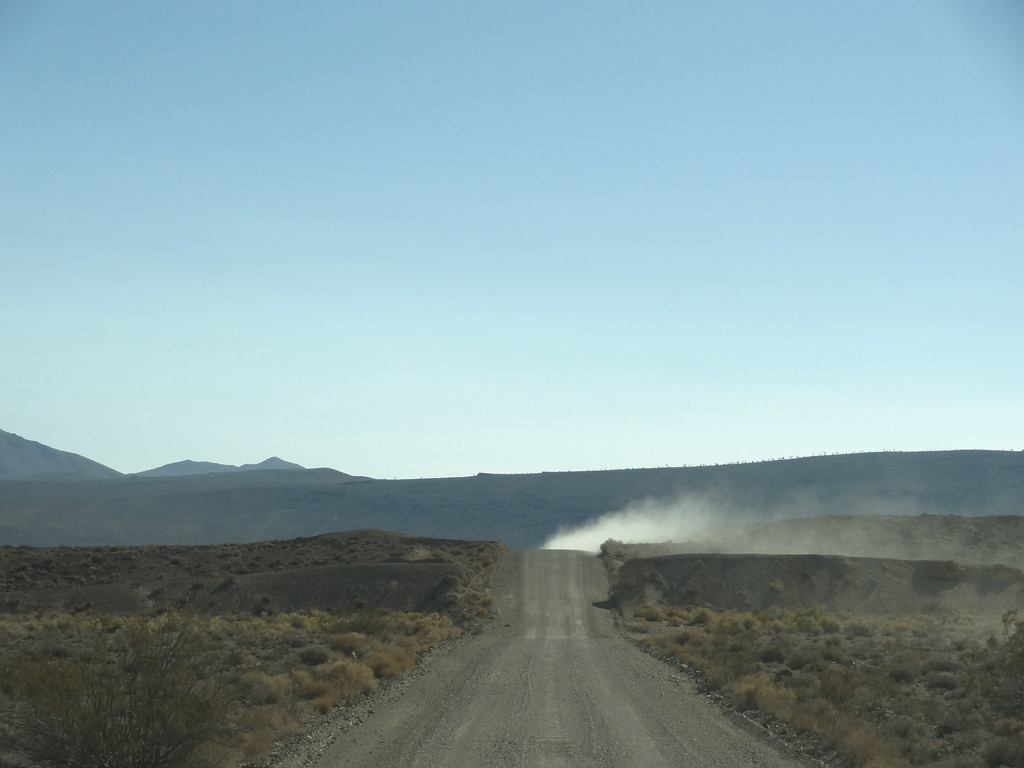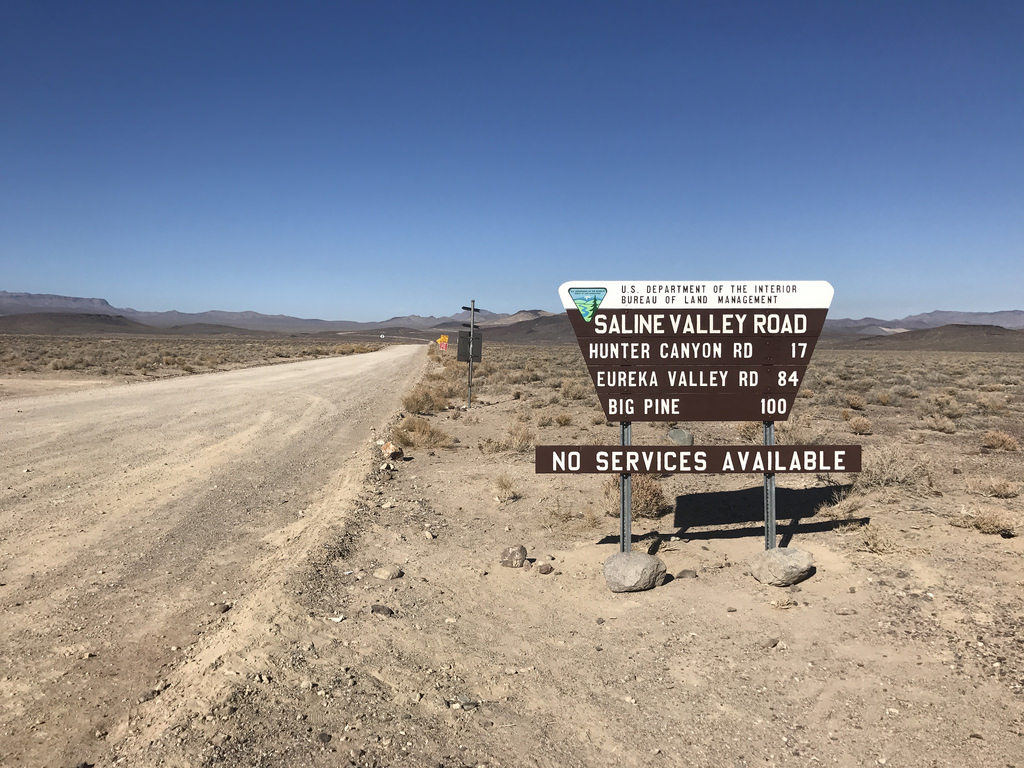 This marked the end of our trip through the desert. 150 miles, 10 moving hours, and 10.5k of ascent; all on dirt. This is the longest track that I have saved to date, and all of it makes me want more desert. We cruised down the smooth Highway 190, which at highway air pressure was incredibly weird feeling after so many miles of washboards and rocks. The remaining group fueled up in Lone Pine before setting out on the long trek home. Not before stopping in Bishop for a celebratory beer/food stop.
My first trip to the desert was eye opening to a new environment that has so much to offer. I learned new things, saw some amazing places and in the years to come, I plan on exploring many more miles of this area. Sierras in the summer, desert in the winter; I get it now.