Downieville to Sloat - July 2016
[Originally posted 07/24/2017]
A while ago, my buddy Andy mentioned to me that he would be putting together an "expedition" to travel the Backcountry Discovery Trail in Plumas National Forest. He convinced me that it was something I needed to do, so that's what I did. I looked at the calendar, picked the dates I could join along, and booked it. I would be joining on the first leg from the town of Downieville to Sloat, approximately 60-70 miles north. The only roads between the two points that we were going to take were dirt, because that's just how Andy rolls. And I have never been the type to argue over getting dirty. So join along as I share some photos and dialogue of my portion of the trail.
I met Andy and his dog twin Taco in the Bay Area at a donut shop early Saturday morning. Well stocked and anxious, we left and headed through San Francisco (Taco's first time over the Bay Bridge), and east on Interstate 80. Stopping in Fairfield, we met up with Phil, an Expo/Tacoma World member and his 2nd generation Tacoma/Four Wheel Camper combo. We then met up with Alvin and his 1st generation Tacoma along with his co-pilot Eric, both Tacoma World members. One thing that we did notice, we all had Cooper Tires; Andy with STT Pros, Phil with ST's, Alvin with STT's and myself with the ST Maxx's (fitting). After a brief chat, we took off eastbound on I-80 towards Auburn. There was a bit of radio chatter discussing the rigs, and the route planned on the way up, and ultimately we ended up in Auburn traveling North on Highway 49. This area was very familiar to me as my family has land and a cabin not 15 minutes from 49. We passed through Grass Valley, Nevada City, and then followed 49 on to Downieville. This was new territory for me as I had never been past South fork of the Yuba River before. In Downieville, we agreed on some pizza and a quick fuel up before heading to the beginning of our off-road journey.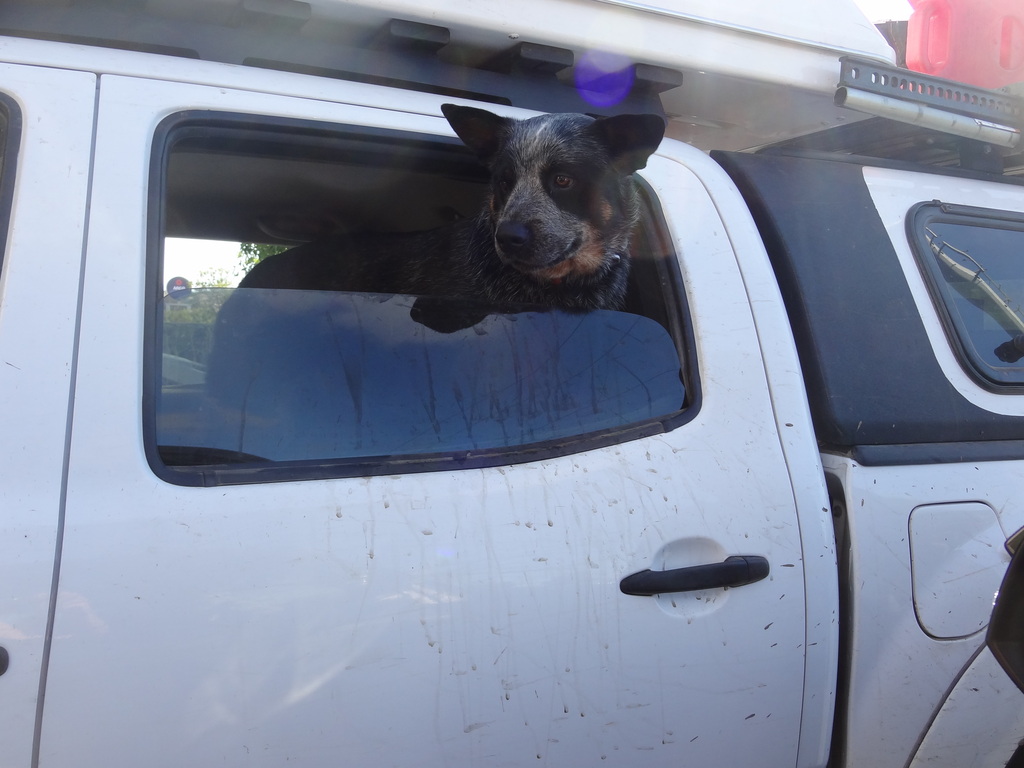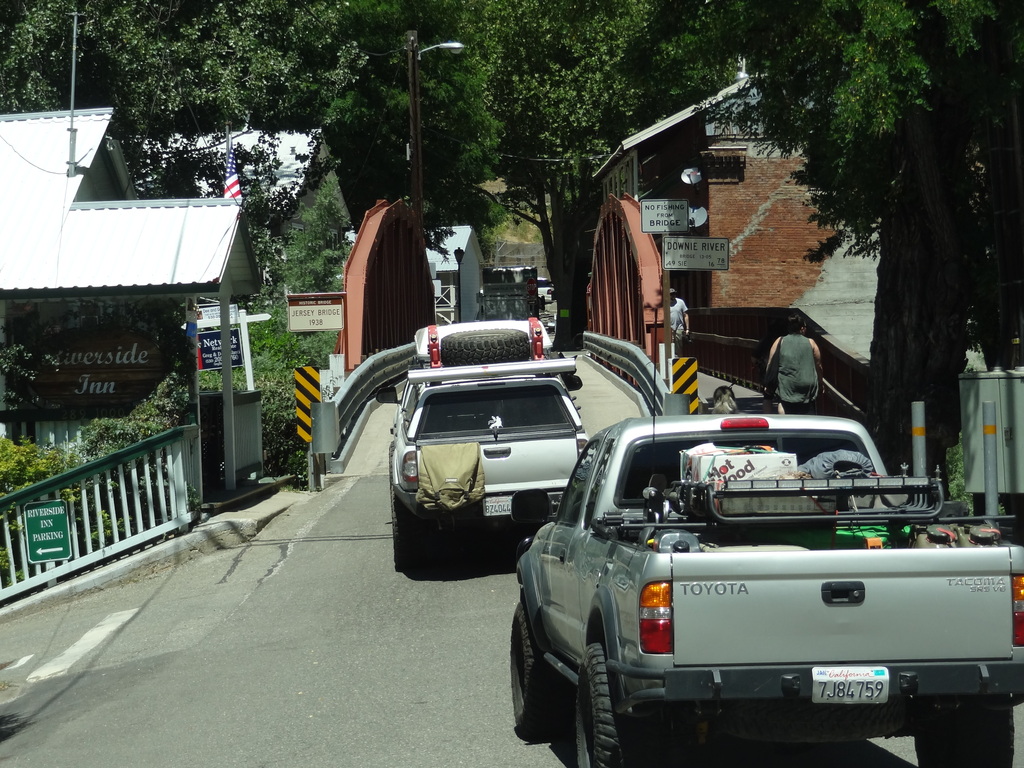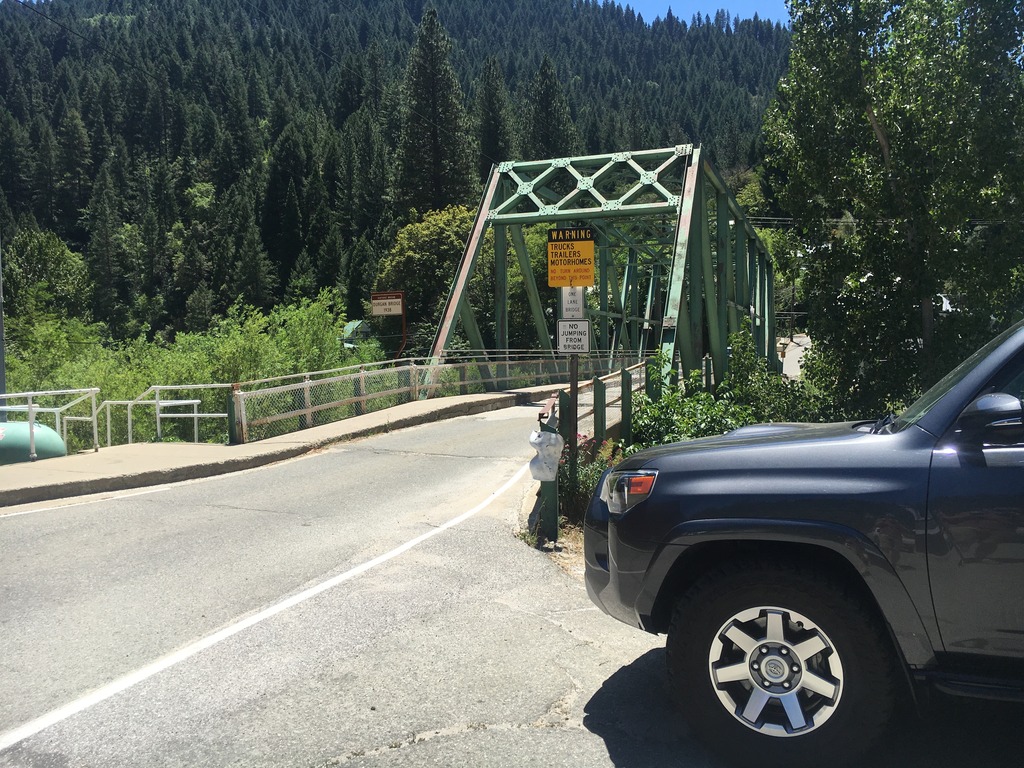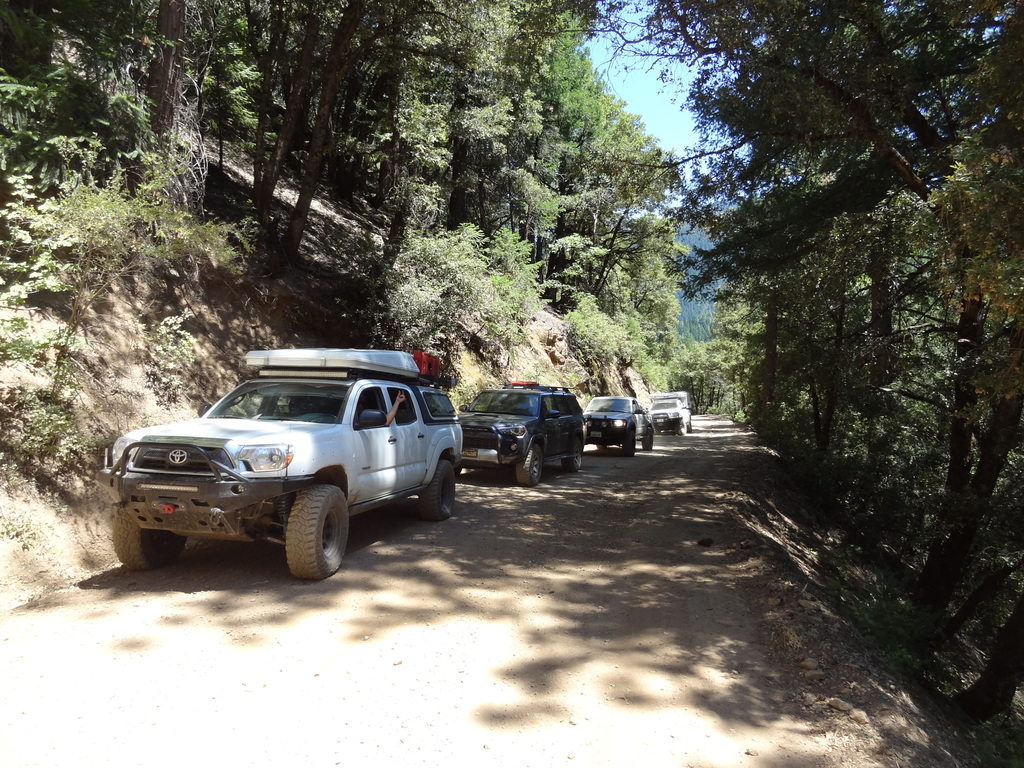 The theme of this trip was to make it to the campsites in a reasonable amount of time, but anywhere along the way was subject to change on the fly. We made our way up the first fire road, took a quick offshoot that looped out and back from the main road, and then reached an intersection. The Motor Vehicle Use Map (MVUM) showed the trail being 4x4 accessable, but a forest service sign at the beginning of the trail noted the trail as being ATV/Motorcycle. We decided to venture up the trail to see if things got too tight. We fought through some narrowing spots on the trail until we reached a section that was really tight, and mostly manzanita which isn't forgiving on paint. Everyone in the group was ok with the pinstriping, except for me. I am more than willing to scrape along a trail, but this was too much. I took my shaming as we headed towards the top on foot to catch the view.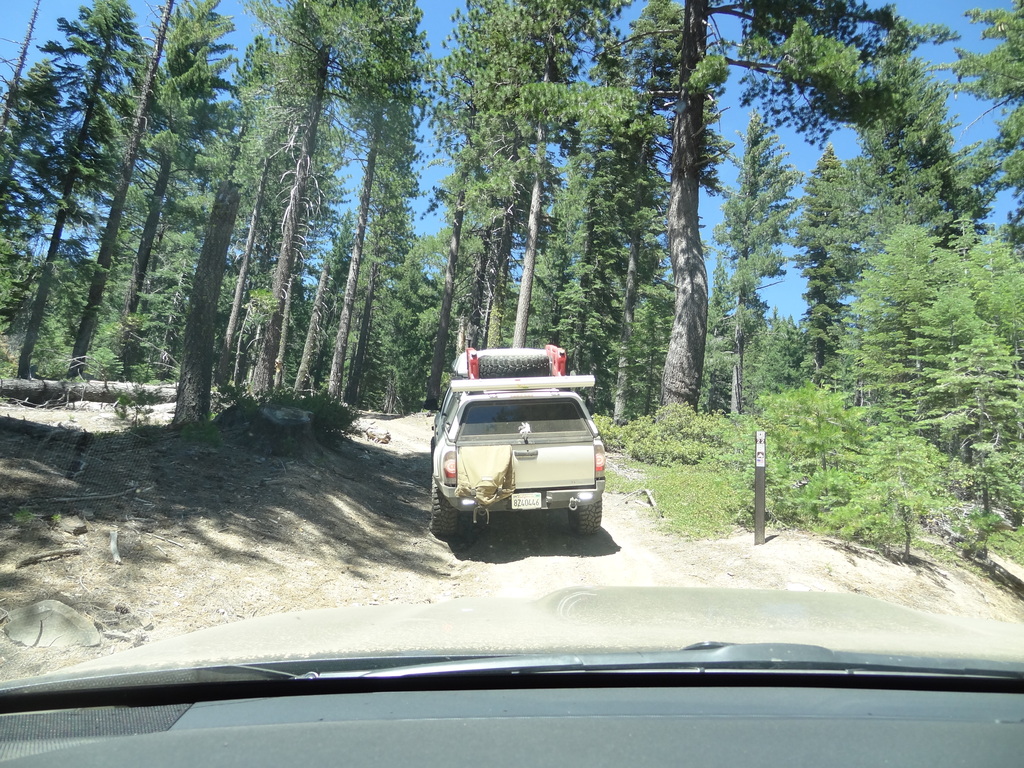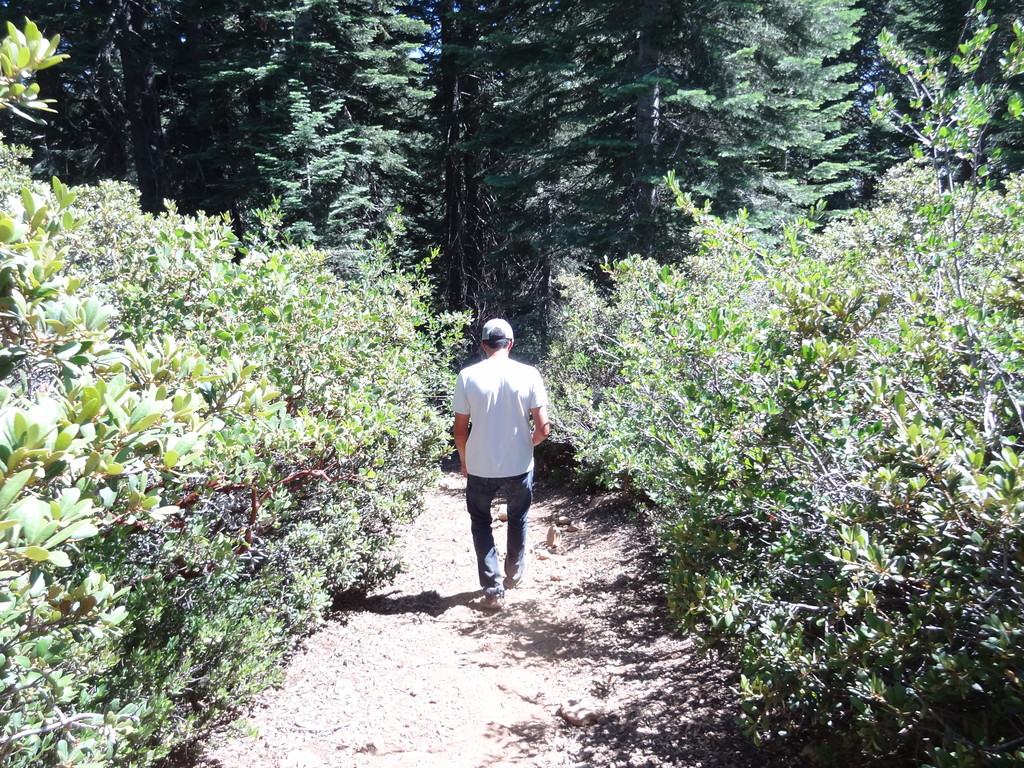 After getting back to the trucks, we drove to the last intersection where we diverted, and made our way to the next waypoint, Saddleback Mountain Lookout. It was an entertaining ascent to the top at nearly 7,000' elevation. The lookout itself was manned by a Forest Service employee and his wife and son. He was the relief watchman and was there for a 4 day stint. Talk about an epic job. We got to tinker around with some of the tools up there, my personal favorite being the Osborne Firefinder. Talk about a cool tool that was built almost 80 years ago! After chatting with the FS guy for a bit, and snapping a photo together, back to the trucks and on to the next bit; a 4x4 side trail.
Side note: I think that I am going to incorporate more of these Forest Service lookouts on my adventures, because they are just plain COOL!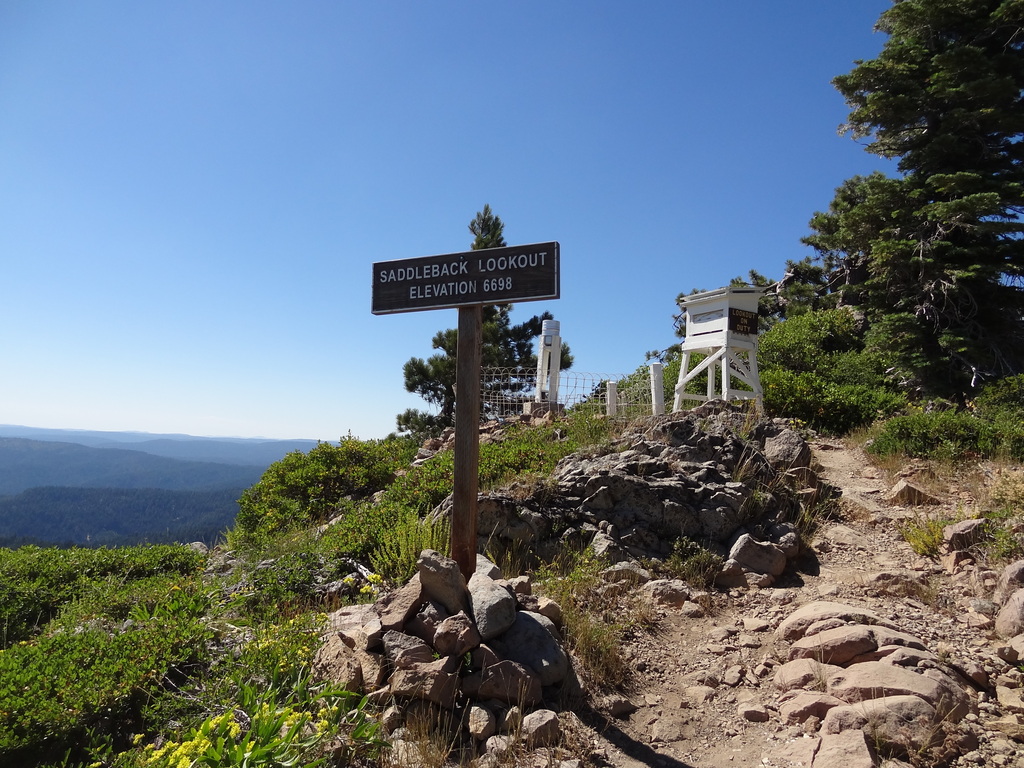 So this side trail. It started as an out and back adventure because any good reason to use 4LO is highly encouraged. From the map, it led itself down a steep hillside, into a canyon below where we would in theory turn around and come back up. It led us through a pine forest before coming around a corner and pointing us down a straight steep section with large water bars into a sharp right hander at the bottom. That right hander put us into a rock garden. I had been dragging my belly over the water bars the whole way down, so seeing the rock garden made me nervous. Basically it boiled down to this: we weren't backing out, or turning around before the rocks. With some encouragement, guidance, and the moving of a few rocks, I made my way down the rock garden to join Andy who 'waltzed' through it first. No problem. The fun part came when I noticed a tree a few hundred yards around the trail that only had enough room for a side by side. Time to turn around. Thankfully there was a small, off camber washout just on our side of the rock garden. We brought Phil and Alvin through the garden, and then proceeded to 5 point turn them around to point them up the hill. Alvin found that his Toyota wanted to make a groaning/grinding noise from somewhere in his front end in 4LO. And Phil killed it with his 6-speed manual. My turn came up, I made the turn around, engaged the locker and moved up the rock garden. Much to my surprise, with Phil spotting, my skid plate stayed skid free through this section (whew). Making the left hand corner up the loose gravel hill was quick, and I had to stop, back down and start again after losing forward momentum the first time. But the second time was the charm, up the hill and out of "the pit". Andy made his turn just fine, and through the rock garden without any assistance (suspension upgrades allow you to do this). Eric and I were at the bottom of the hill, and caught a ride up on Andy's slider. But because Andy always has tire problems when I am around, he was too close to the side of the trail and something reached out and tore his valve stem… He drove to a flat (by comparison) spot of the trail, and we changed the tire. Everyone on 4 tires again, we climbed the rest of the way out, and decided it was in our best interest to make our way to camp at Poker Flat which was a easy drive along a ridge and down into a ravine with a creek at the base.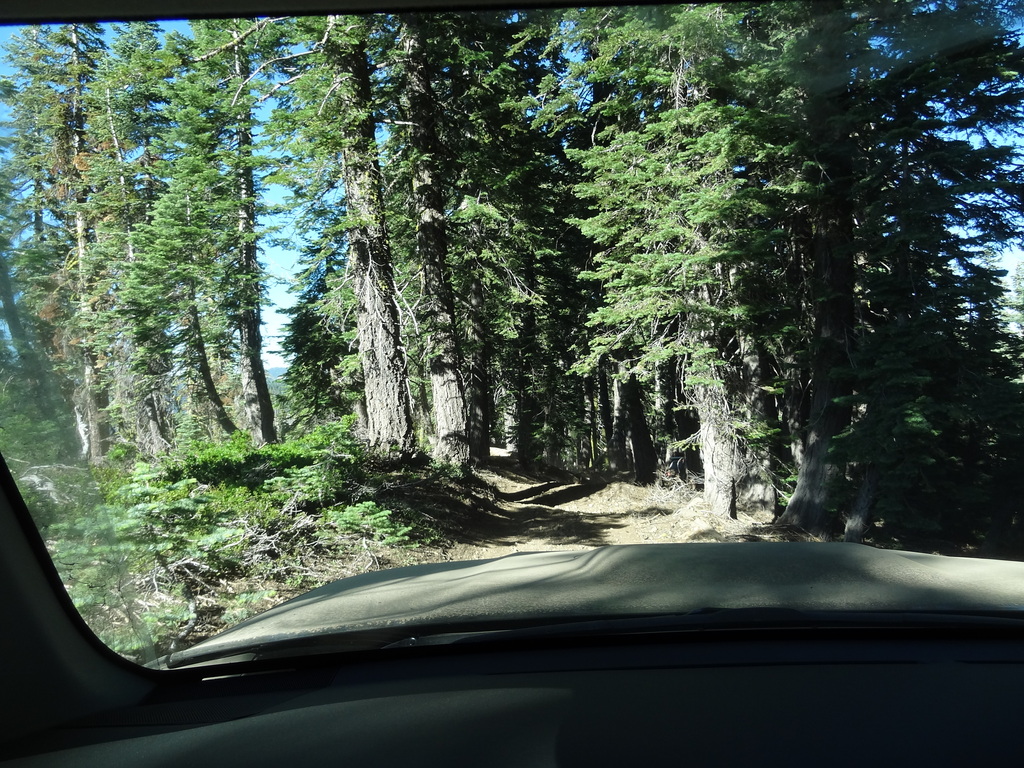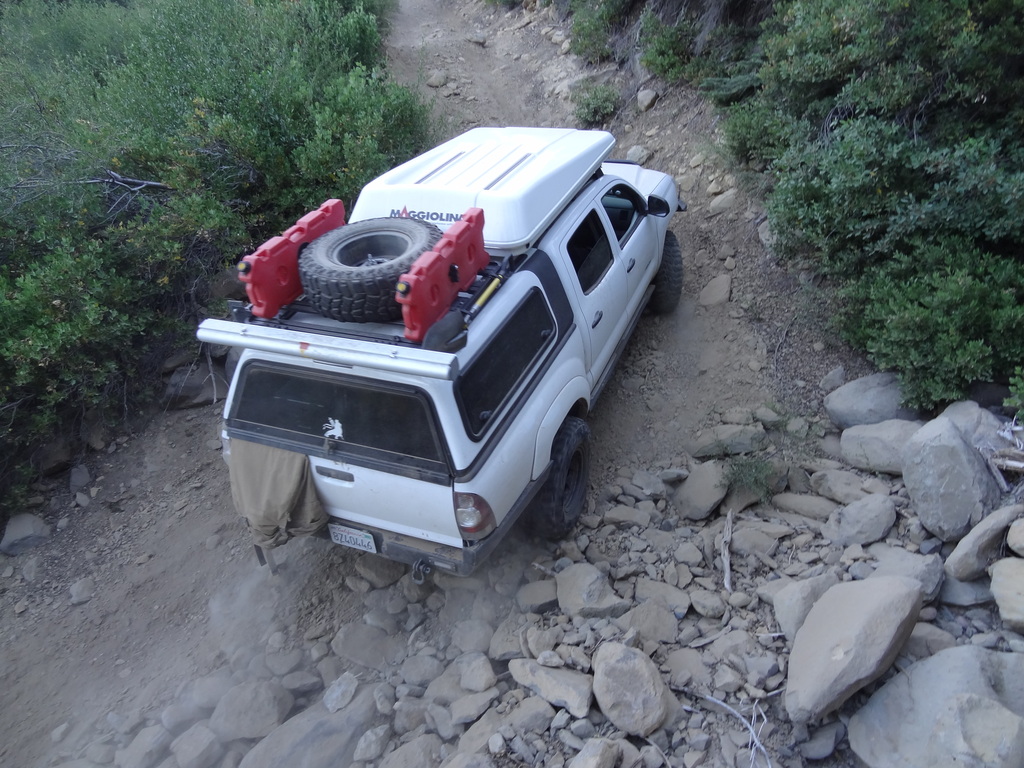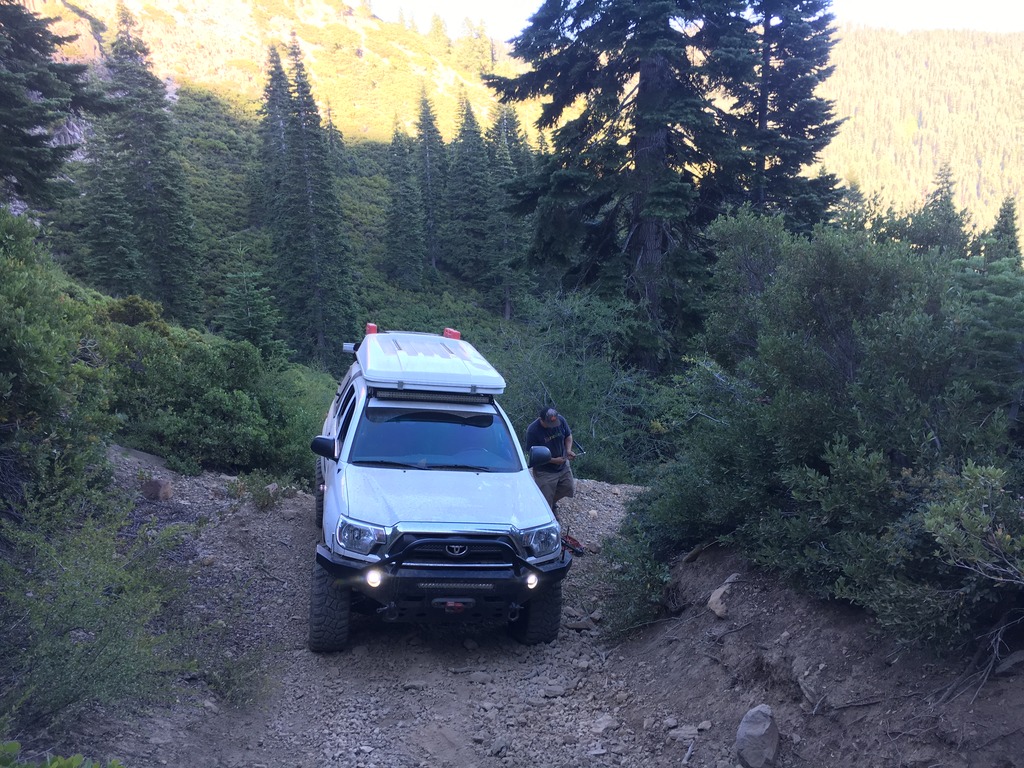 Sunday morning breaks, and we combine breakfast, coffee and clean-up into one motion. There were a couple of local guys in the campsite next to us at Poker Flat that gave us some good intel on the area. Andy talked to them about route planning, and I talked to them about good fishing in the area. All packed, we took a group photo, and hit the trail. The first leg was a 1,600' climb out of the campground to the opposing ridge line. It was a steep climb that followed a trail that had been carved into the mountain. Loose gravel, mud, roots and ruts. It was a great way to start the day. Our first stop for the morning was Howland Flat. A late 19th, early 20th century mining town that lays in ruin. We arrived at the cemetery first, meeting with our camping friends from the night before. We all looked around and visited the number of headstones remaining although according to our local friends there used to be many more as early as a few years ago. We still had many miles ahead, so we moved on. I would like to return to this area via La Porte again to spend some more time around the other buildings that remain in the area.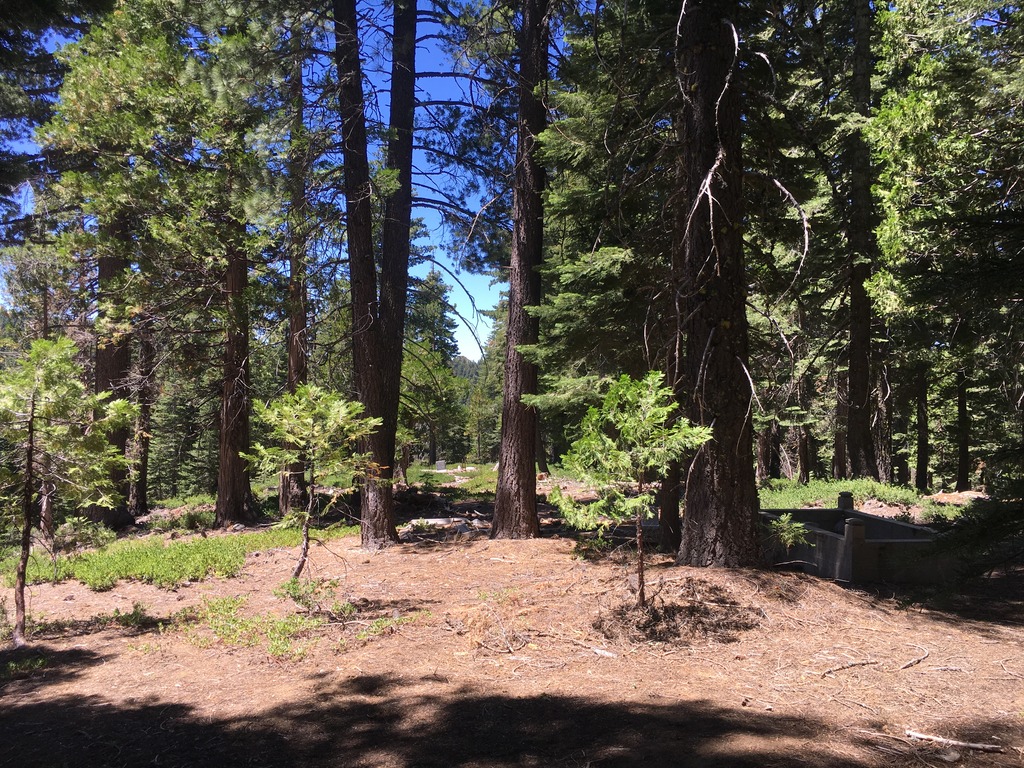 We moved on to a fun 4x4 section that we heard had some technical sections that pointed us towards a lake visible on the map, our potential lunch destination. As it was a new day, a side trail was in order. We left the main trail, and wound down a trail to where we thought might be a creek. But in this case, maps lie. We pulled an about-face to reconnect with the main trail. Back at the top, we stopped to enjoy the trail, and to take a photo op. Back on the main trail, we came to a technical section that required some spotting. The other guys had no issue with the help of a spotter, I was last and worried about clearance, again. And again, with good spotting and the rear locker engaged, I made it through without a scratch. I got out with a huge smile on my face. Stock suspension and a tire upgrade. Holy shit is this thing awesome. We were just around the corner from our lunch spot at the lake. But it happens that the lake we were looking at was a retreat location for churches and thus private property. But we made good use of the area outside the gate for our lunch. Eating on the back of my truck with other people that enjoy these trips as much as I do, is nirvana. It's the simple things. A beer, a burrito and good conversation.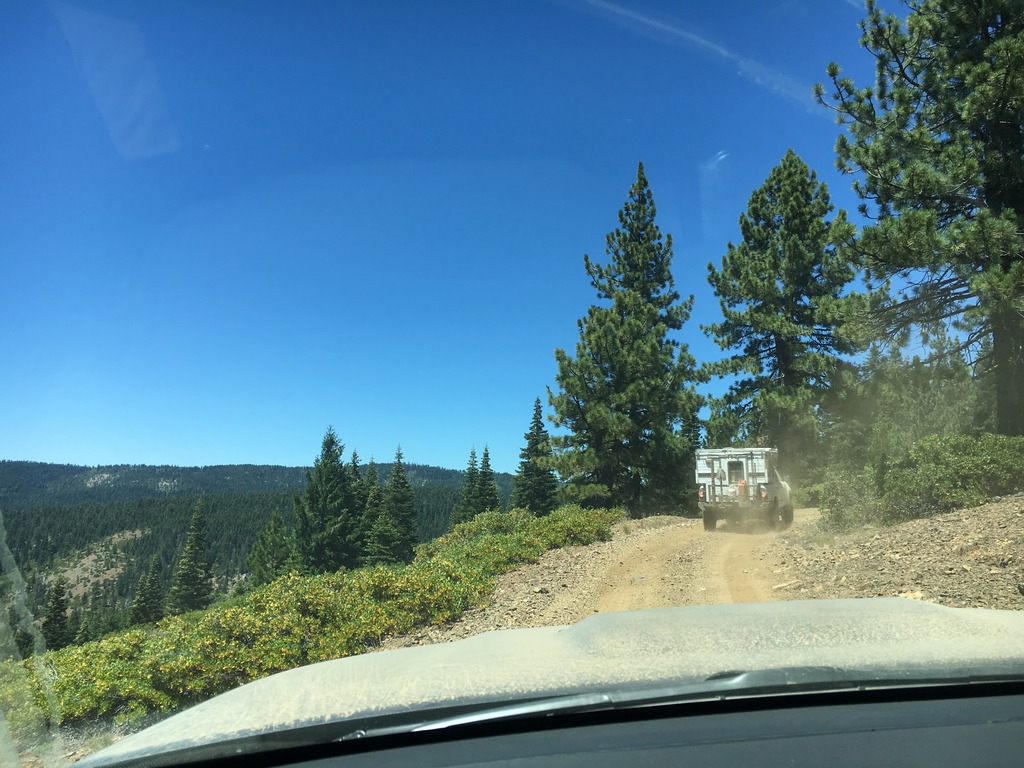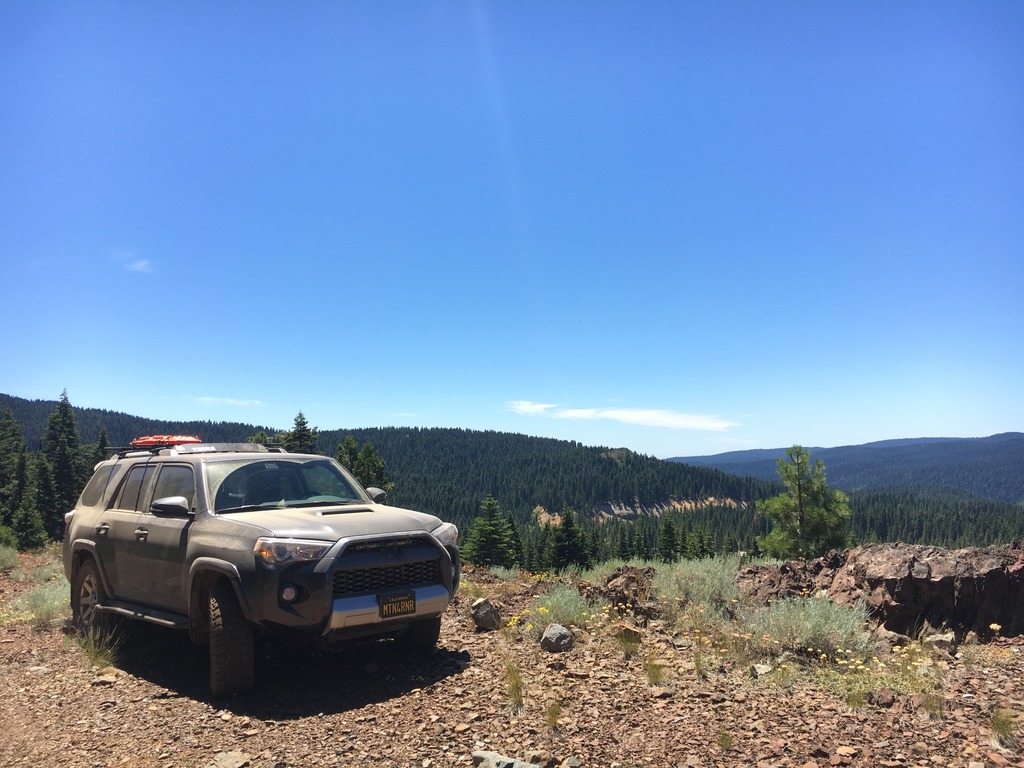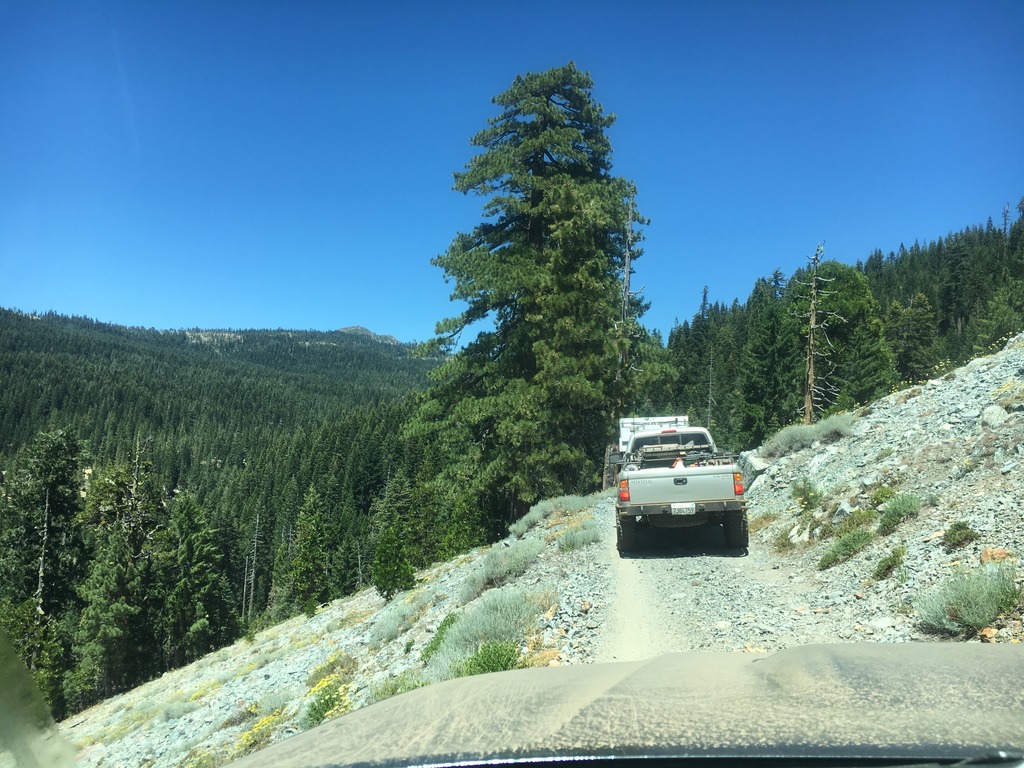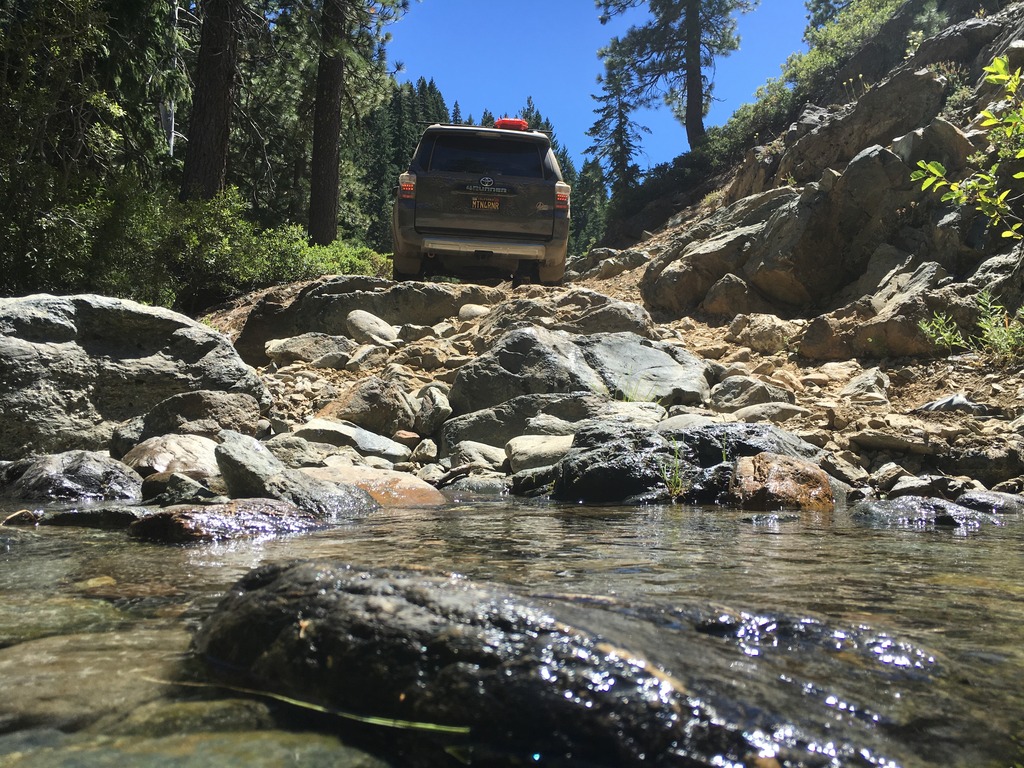 We were now on a larger road, more consistent with a fire road heading towards Duck Lake and where we would cross the Pacific Crest Trail. When we reached the lake, there was a family there. A husband, wife, and their teenage daughter. They had left the southern most starting point of the PCT in MARCH! My weekend adventure just began to seem extremely small. They had hiked through the heat in the desert like southern portion, the snow in the mountain passes, and the high elevations that fluctuate daily. I have looked into the PCT myself, but talking with these people about their trip made the adventure sound incredible. If you want to check out their blog, click here. We crossed, the PCT on our way out, as I made a waypoint for a place to get our Christmas Trees this December. Future trip, booked! Our planned camping site for the evening was Harrison Flat, about 3 miles away. Down the road we go.
We were very close to Harrison Flat when Andy had another run in with a tire monster. This time, it was a small puncture to the sidewall. Obviously it was my fault, because I am the bad omen to Andy's tires, always. With this new issue, we decided that skipping Harrison Flat was the best plan, and our new destination was the Middle Fork of the Feather River, in Sloat. We threw some extra air into Andy's tire, and hit the road. The road wandered along the ridge line and down the mountain with some spectacular views of Mount Lassen in the distance some 60 miles away. We came out of the forest, and into a burn area that had cleared the land some years ago. With plenty of new growth, coming back here in the next 10, 20 years this road will have a completely different scene. We remained mostly fire roads down to Sloat where we looked for a place to camp along the river and only found one small section that was technically in the National Forest. We found a spot not far from the river, between the water and the railroad tracks to set up for the night. A camp fire, food, and a dip in the river. After dark the sound of a locomotive in the distance prompted me to borrow Andy's camera for a few night shots of the passing train. Then, it was time to call it a night.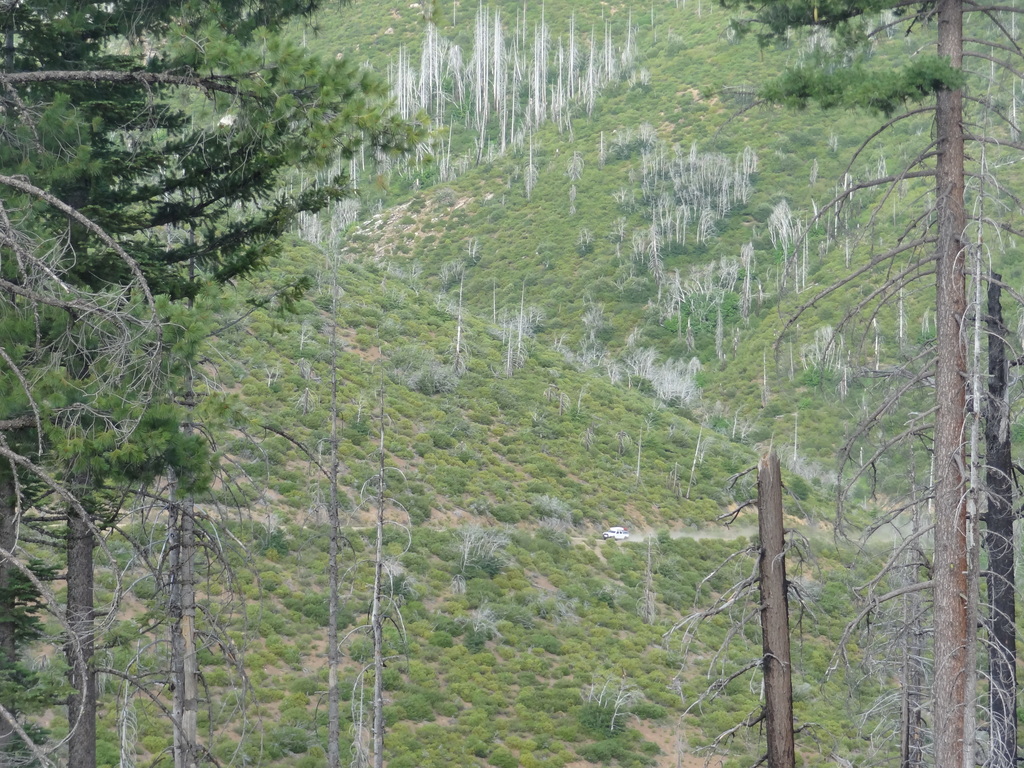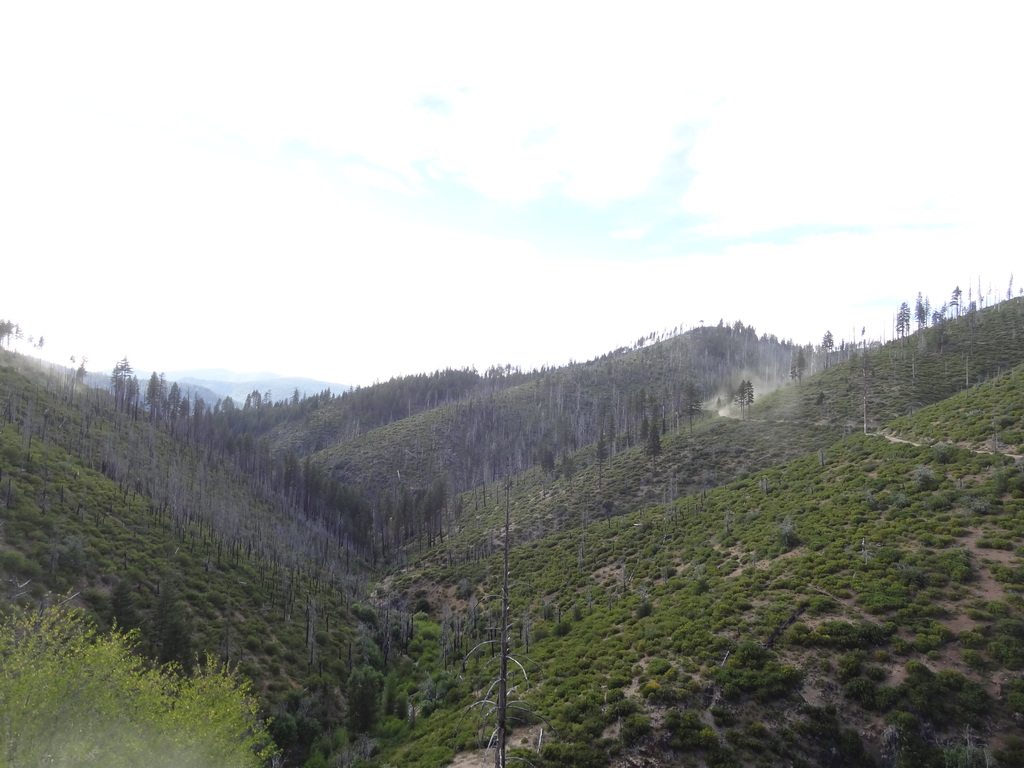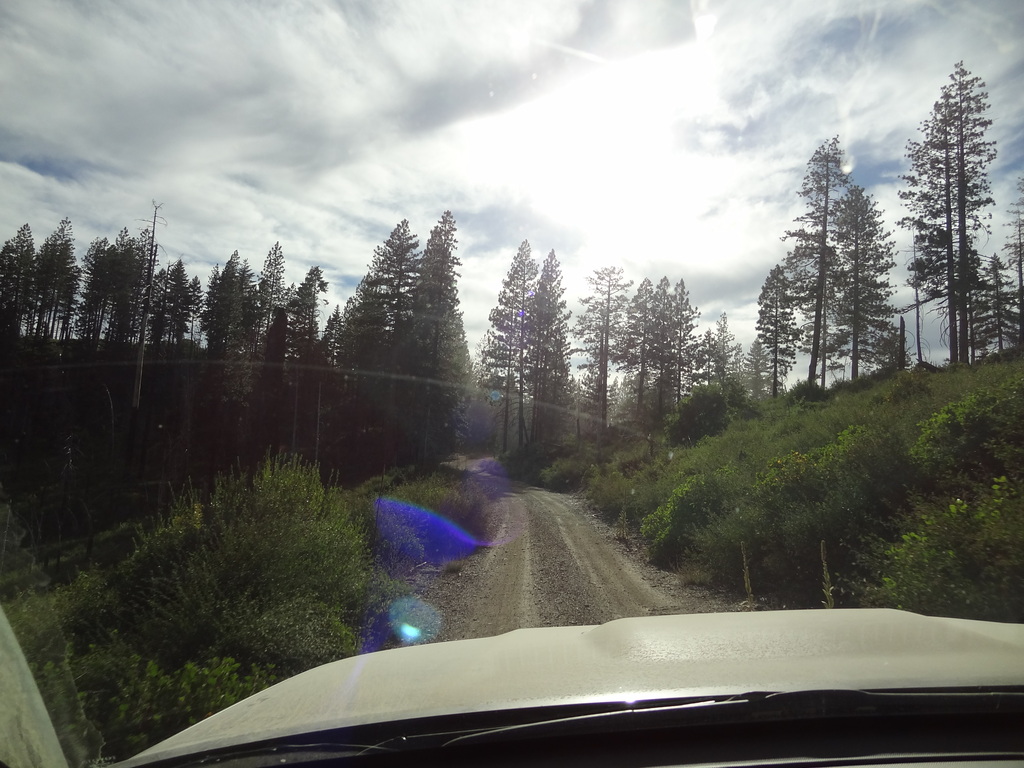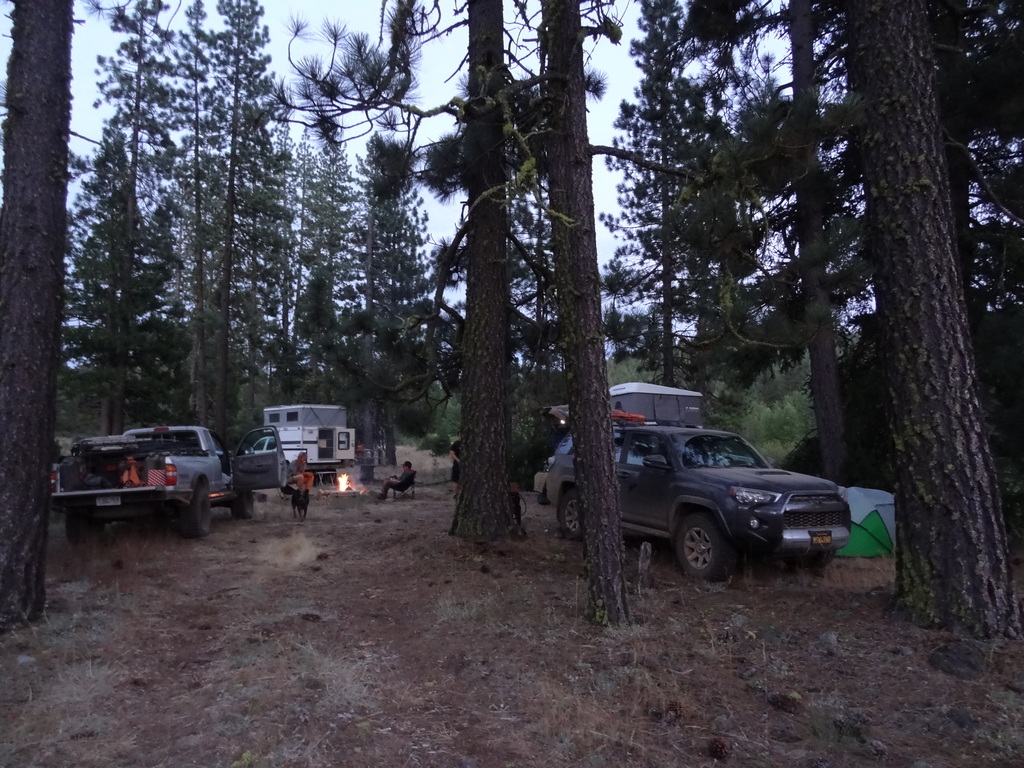 In the morning, we headed into Quincy to have Andy's tires repaired, and for me to fill up on gas. Driving on the road into town with 20psi was….fun…. But after our stops, we went back to camp to wait for the two new rigs that would be joining the rest of the group on the way to their next destination. I took a refreshing swim in the river with everyone before Andy went back to the road to meet up with the others on the highway to bring them to camp. They came back down, and got a chance to hang out for bit while we finished cleaning camp. Then it was time to hit the road. Unfortunately, while everyone continued down a dirt track, I headed to the highway to air up and point towards Truckee. This was the end of my portion of the trip. While it feels short lived, this trip gave me great insight to an area that I had never been to, and a few new friends that I would like to travel with again. I had 275 miles to cover to get home. And hopefully soon, 275 miles to bring me back.